As 2022 is winding down, let's take a look back at some of the Vaadin highlights for the year, along with a quick sneak peek into our plans for 2023.
Product news
Vaadin 23 and a new release model
In March, we released Vaadin 23 which also paved the way for our new, simplified release model where we recommend the latest Vaadin version to every user. Vaadin 23 was followed by a series of quarterly 23.x minor releases, with the latest, Vaadin 23.3, released earlier this December. Find the full list of releases and their respective features on GitHub.
The Hilla launch
In early 2022, we renamed Vaadin Fusion to Hilla and launched its own website. Hilla is an open source framework that integrates a Spring Boot Java backend with a reactive TypeScript frontend.
What is the story behind Hilla? You can read the announcement post on hilla.dev/blog where Product Manager, Leif Åstrand, shares the vision behind the framework. We're continuously improving and adding new features to the Hilla framework, for example, the Hilla 1.3 release introduced React support. Visit hilla.dev to get started!
Psst, follow @hillaframework on Twitter for regular updates.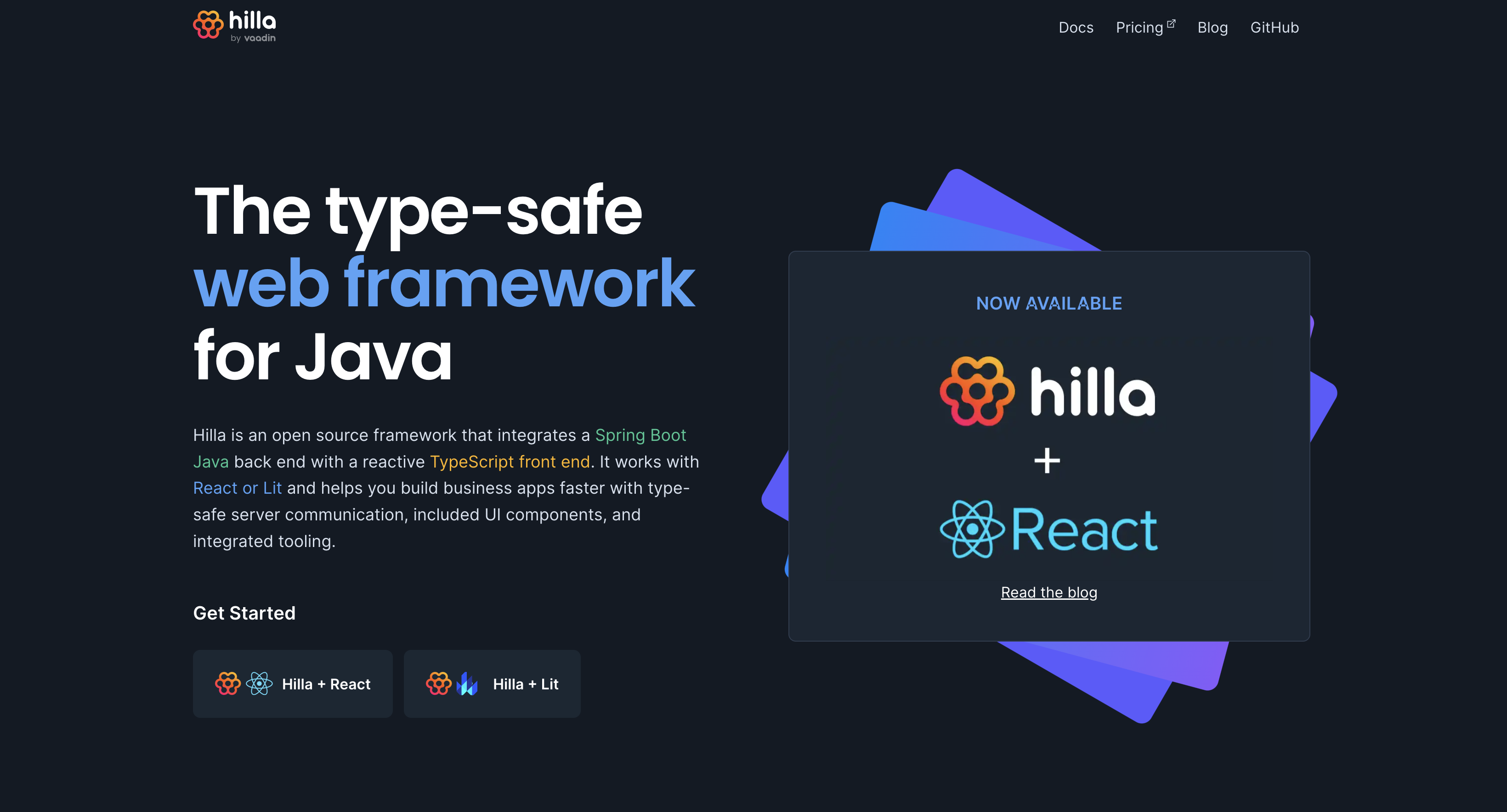 Vaadin 8 reached its end of life
After 5 years since its initial release, Vaadin 8 reached its end of life on February 21, 2022. The last free version under Apache 2 license was 8.14.3. Your Vaadin 8 application will continue to function as normal. However, you will no longer receive:
Critical security fixes and patches

Browser and JVM compatibility fixes

Feature updates

Bug fixes



We recommend all projects upgrade to the latest version, Vaadin 23, if you haven't done so, yet. Need more time to upgrade? You can purchase extended maintenance for your Vaadin 8 application, or, if you're still unsure about the best course of action, start by booking a free consultation.
The new Vaadin Acceleration Kits
Our definition of modern business web applications includes security, reliability, and real-time collaboration while also providing a good experience for both the user and developer. The Acceleration Kits enable you to implement single sign-on, observability, real-time collaboration, blue/green deployments on clustered applications, and gradual migration from Swing to Vaadin.
The Kits include:
Interested in trying one of the Kits? Request a free trial license.
What's new in the Vaadin community?
Vaadin joined the Foojay.io advisory board
In May 2022, we had the pleasure of joining the Foojay advisory board to help promote a thriving Java ecosystem. As a member of the Foojay advisory board, Vaadin will be involved in helping shape the roadmap and direction of the Foojay community. We hope to contribute insights on web UIs and UX to the discussion.
Meet the 2022 Vaadin Community Award winners
In 2021, we launched the Vaadin Community Award (VCA) program to recognize our community members who have demonstrated an exceptional track record of community participation. As an open-source platform, our community's support drives us forward.
A big congratulations to the winners this year! We appreciate your hard work and contributions to the awesome Vaadin community Simon Martinelli, Ryan Pang, Christian Knoop, and Josiah Haswell!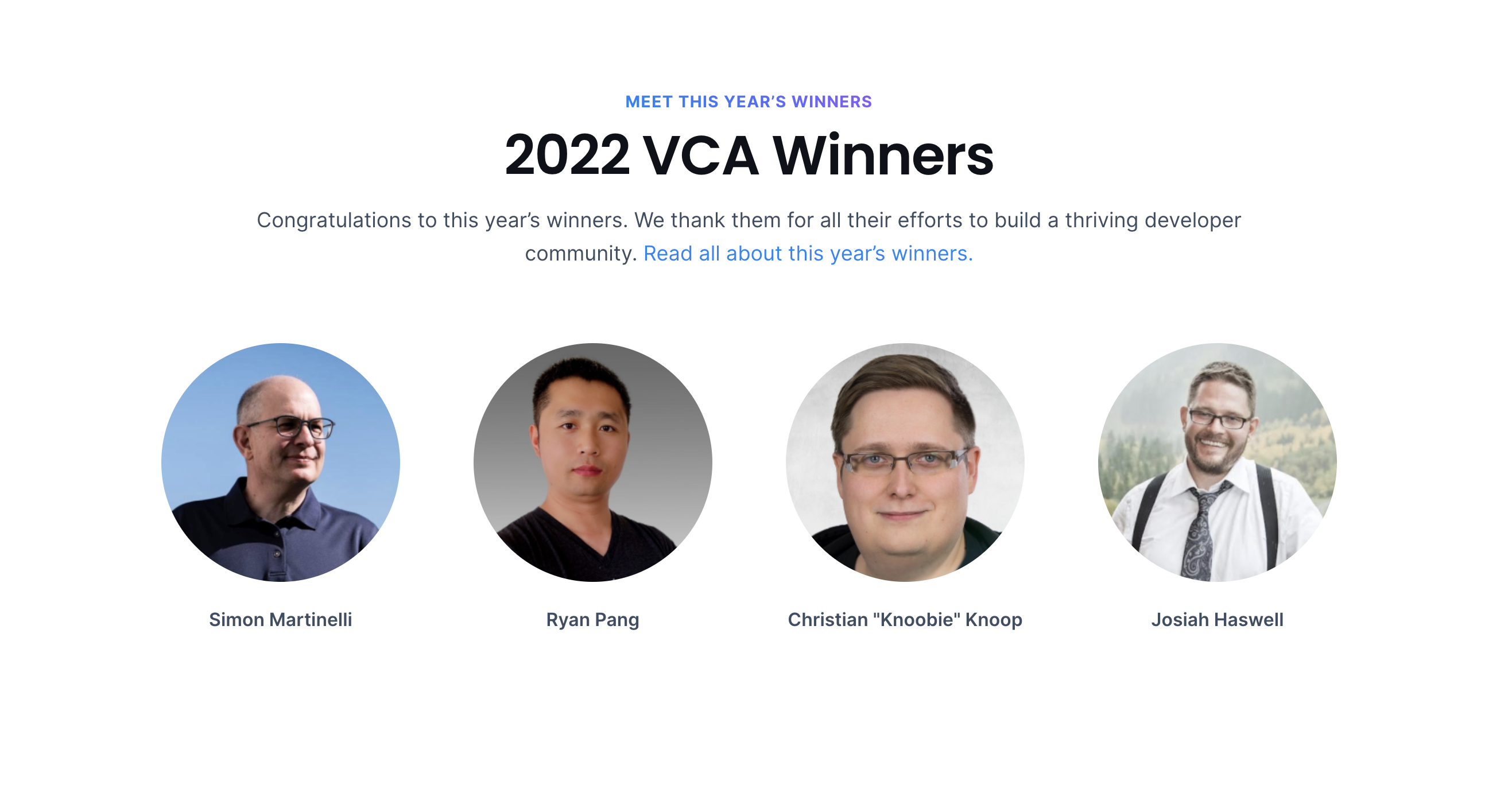 Want to become nominated for the VCA in 2023? Learn more about the Vaadin Community Award →
Plenty of conferences, meetups, and Vaadin webinars
After a two-year break, we are very excited to be back on the road and attend in-person conferences and host Vaadin meetups in the US and Europe. It's a great feeling to meet Vaadin users and community members face-to-face. We always love to have a chat with you and see what kind of projects you're building with Vaadin.
In addition, we've hosted regular webinars that cover a range of topics from modernizing Java applications and the value of good Enterprise UX, to accessibility in web applications. Find our latest webinars on the Vaadin YouTube channel.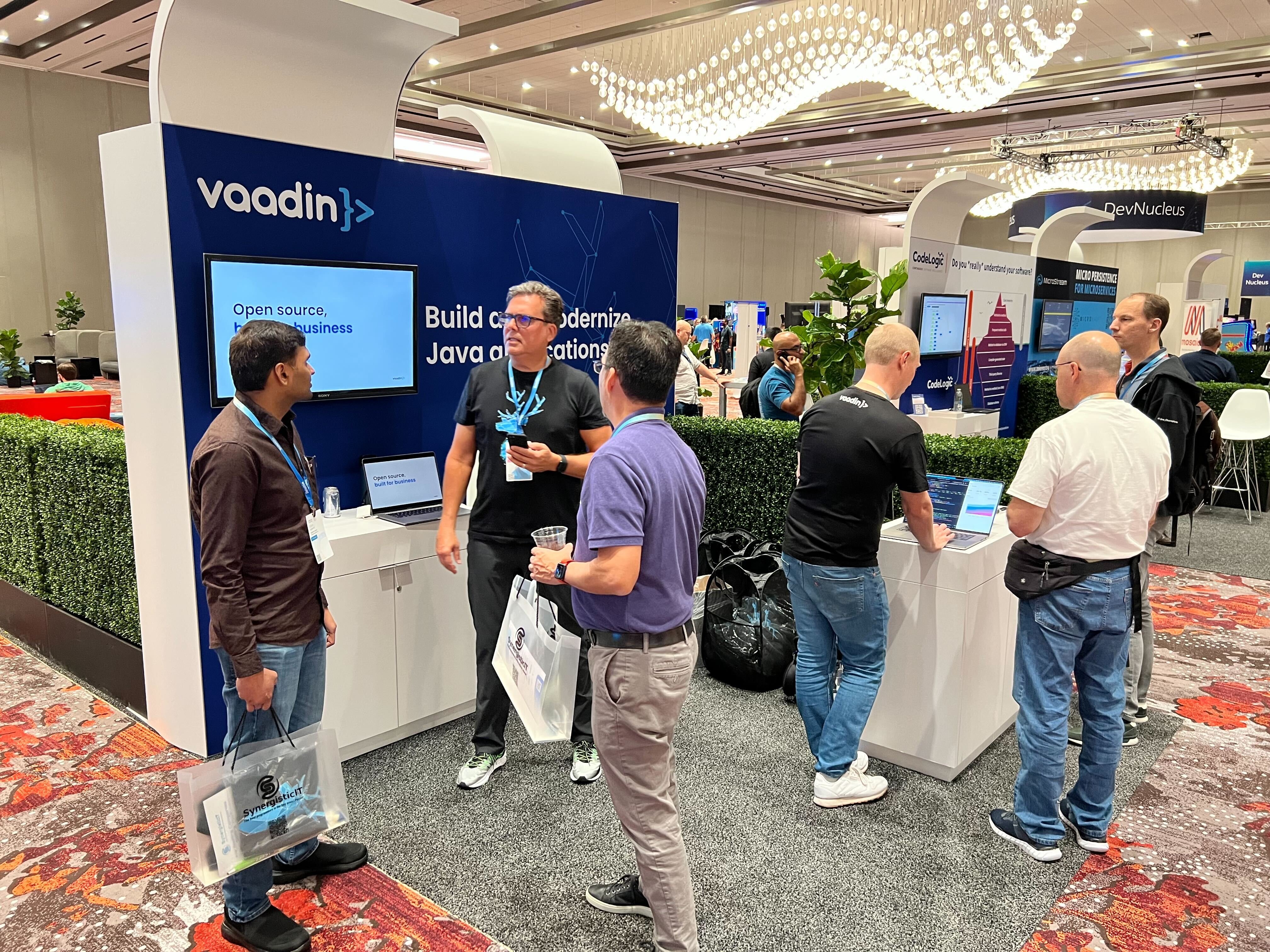 Almost 3,500 community members on Discord
Since launching the Vaadin Discord server in 2020, our community has been growing consistently. To date, it has already grown to almost 3,500 users! If you have any questions, want to give us feedback, or need help, Discord is the place. In addition, we host regular Vaadin Office Hour sessions, where our DevRel team is on hand to help you out.

Not a member yet? Join here.
What's next in 2023?
We look forward to seeing what exciting projects, events, and new features will enter the world of Vaadin in 2023. For one, you can expect the LTS release of Vaadin 24 in March and it will be compatible with Spring Boot 3.0. If you're eager to be on the latest Spring Boot version, the Vaadin 23 pre-release is already available.
To start a new project, configure and download a fresh Vaadin 24 starter project from Vaadin Start by selecting "Vaadin 24 pre" in the technology settings:
Are you an add-on author? Be ahead of the game, and check whether you need to prepare your add-ons for Vaadin 24.
For a detailed list of planned releases and upcoming features, see our roadmap.
Join the Vaadin Collaboration Kit challenge and win cool prizes
There's still over a month left to join our Vaadin Collaboration Kit challenge. Design or build a collaborative web application using the Vaadin Collaboration Kit. You have until January 31st, 2023 to submit your work, so be quick and why not challenge a friend, too?
...and that's a wrap.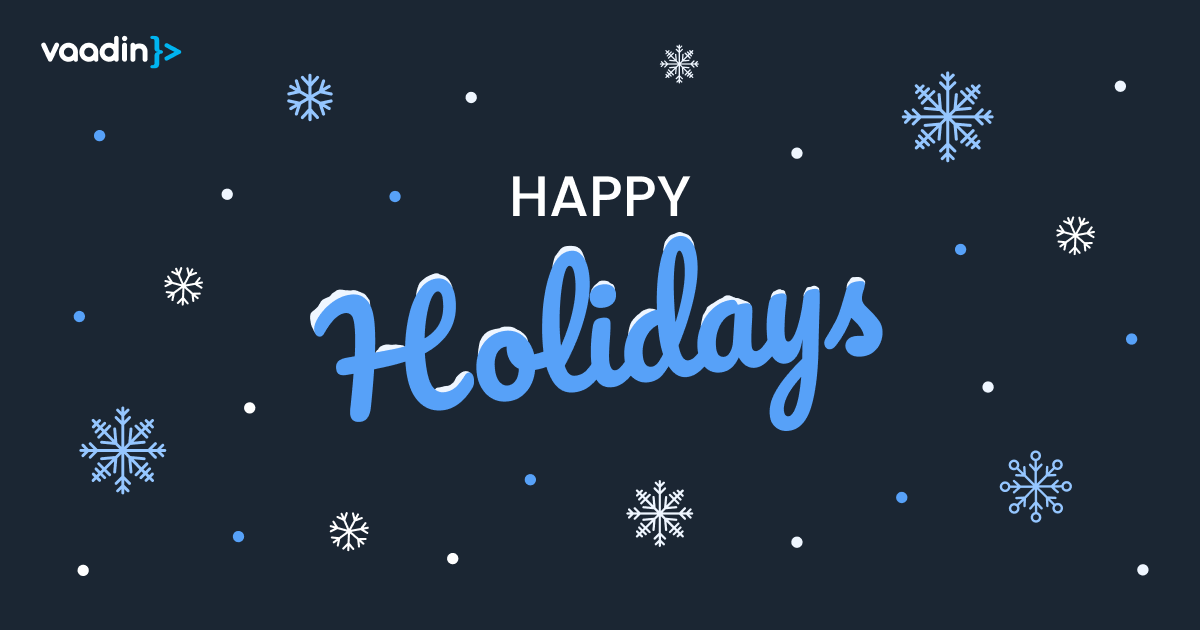 Thank you for an incredible 2022! Our happy herd of nerds wishes you a happy holiday season and all the success in the new year. Happy Holidays!