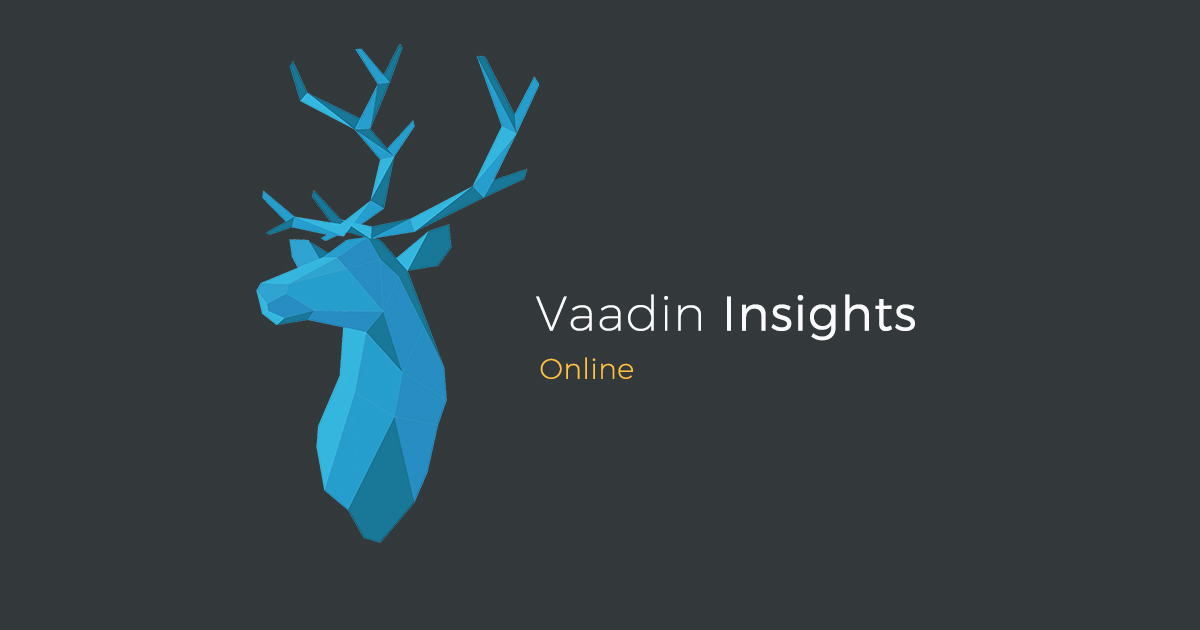 Vaadin held the first Vaadin Insights Online event for customers in the Americas, and the EMEA and Asia Pacific regions during the last 2 weeks of April 2020. The event focused on current trends in web app development and design systems, and included three great presentations during 3 webinars.
Our founder and CEO, Joonas Lehtinen, gave the first insightful presentation on current trends in web app development, design systems and real time collaboration. Next, our VP of Product, Niko van Eeghen, presented the Vaadin roadmap and he was followed by Ben Wilson, our Migration Practice Lead who covered the topic of migration.
State of progressive web applications by CEO Joonas Lehtinen
Introduction to real-time collaboration by CEO Joonas Lehtinen
Benefits of Design System by CEO Joonas Lehtinen
Key investment areas of Vaadin by VP of Marketing Niko van Eeghen
Tips on migrating to Vaadin 14 by Migration Practice Lead Ben Wilson
The three different online events were attended by participants from all over the world, including Finland, Australia, The United States, Malaysia, Germany, Norway, The United Kingdom, Canada and many more. The participant profiles varied from lead developers to CEOs of software companies. Although the participants are from varying business domains and roles, there was one common denominator: everyone is interested in solving user problems and creating a productive development environment today and in the future.
Apart from the presentations, an important part of the agenda was the group discussions, where participants shared their views on the discussion topics with Vaadin decision makers.
During these discussions we delved deeply into two topics: PWAs and adopting a single code base strategy, and leveraging design systems and real-time collaboration as a competitive advantage.
The first question was about how participants view the drivers and blockers of adopting a single code base across desktop and mobile for their development strategy.
Drivers:
Cost savings during development and maintenance.

Flexibility on project staffing.

Easier training of new team members.
Affordable way to implement a mobile strategy.
Unified experience on both mobile and desktop.
Blockers:
Offline support.
Frequent UI redesigns to support smaller screens.
Support for older mobile devices and browsers.
The second question on UX and ways to leverage design systems and real-time collaboration as a competitive and powerful advantage, also opened up some interesting and thought-provoking ideas, particularly in relation to real-time collaboration. Within each group, we found that improved collaborative experiences and design systems resulted in improved developer and designer productivity. This is something you will no doubt hear much more about in the future.
The Vaadin Insights Online event was well received by all participants and a great majority found the topics and presentations relevant. We look forward to continuing discussions with the attendees in the future. Also, watch this space for upcoming online events in the future.