We are proud to open a brand new office in Berlin, Germany to be closer to our German customers and users. The office's main focus is on consulting with the goal of serving our German users better both commercially as well as in local meetups and at events.
"We will hire at least 10 developers and consultants as soon as possible to our Berlin office" says SVP of Engineering Mr. Henri Muurimaa. Our first new team members have already started their work in Berlin and there are more to come.
The new office is set in the heart of the pulsating Friedrichshain district, well connected to the rest of Berlin. Berlin boasts a thriving startup community, in addition to having several universities and technical colleges in the area, which was one of the major reasons to setting up an office in Berlin in particular. Being close to existing key customers also played a huge role for us in choosing Berlin as our next stop.
The central location not only enables our new team members to get to work easily and quickly, but also to reach our customers in Europe much more directly, with flights from one of Berlin's two airports or the six long-distance train stations.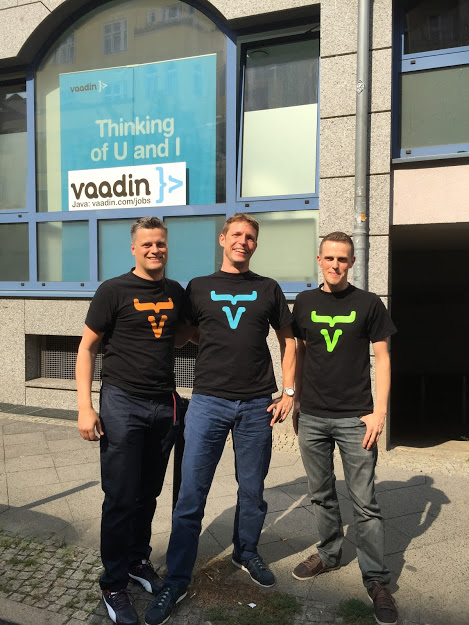 VP of Sales Sami Kaksonen visiting the Berlin office with Office Manager Enver Haase (in the middle) and Key Account Manager Jürgen Treml (1st from right or 3rd from left)
If you want to join the Vaadin movement, this is your chance!