What is Vaadin used for?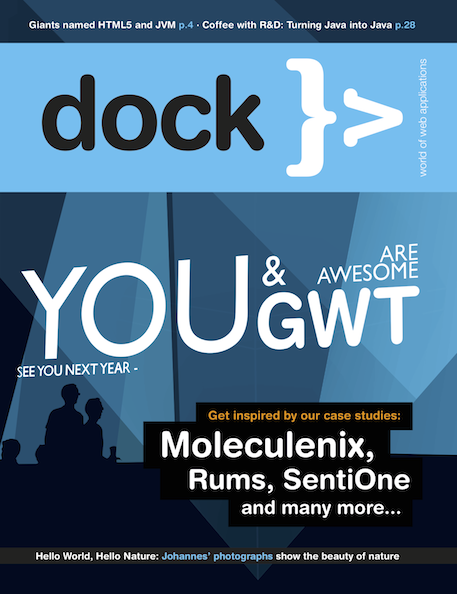 The Vaadin Dock Magazine gathers the best and the latest stories about and around Vaadin - the roadmap for the framework, amazing real-life Vaadin usage highlights and stories from the Vaadin office. Dock has now been updated and a brand new edition is ready for you to enjoy. Here are some picks from inside the magazine.
Migros retail, SentiOne, Space Applications Services…
Dock is filled with some amazing use-cases and screenshots from some of the most amazing Vaadin applications out there. From retail and space to insurance and health care or transportation – no matter what industry you're in, you'll find something familiar from inside Dock. We've also built in a section of its own for open source projects using Vaadin.
Vaadin R&D, UX and U
What is Vaadin's goal? Where is Vaadin going to be 5 years from now? What does the Vaadin R&D actually cook? We lured the R&D team together by offering a big cup of steaming hot Java and cinnamon rolls to get an idea for this. Find out what tools and features are on the menu for Vaadin users in the future and how we aim to empower you further along the way by reading the R&D team's plans and CEO Joonas Lehtinen's editorial on JVM and HTML5.
Keep The Archipelago Tidy
Wasting our precious nature and the sea is a growing problem all over the world, so we decided to act locally, together with the Finnish Keep the Archipelago Tidy Association. As a part of our Corporate Social Responsibility (CSR), this resulted in a crowd sourced app used by hundreds of people to keep the archipelago tidy. An award winning combination. Read more about it in Dock.
And you already guessed it - these are just some of the cases highlighted from the world of Vaadin applications. While the magazine is informative, it is also very good-looking in print. Either find us at events and conferences or order your printed copy here.