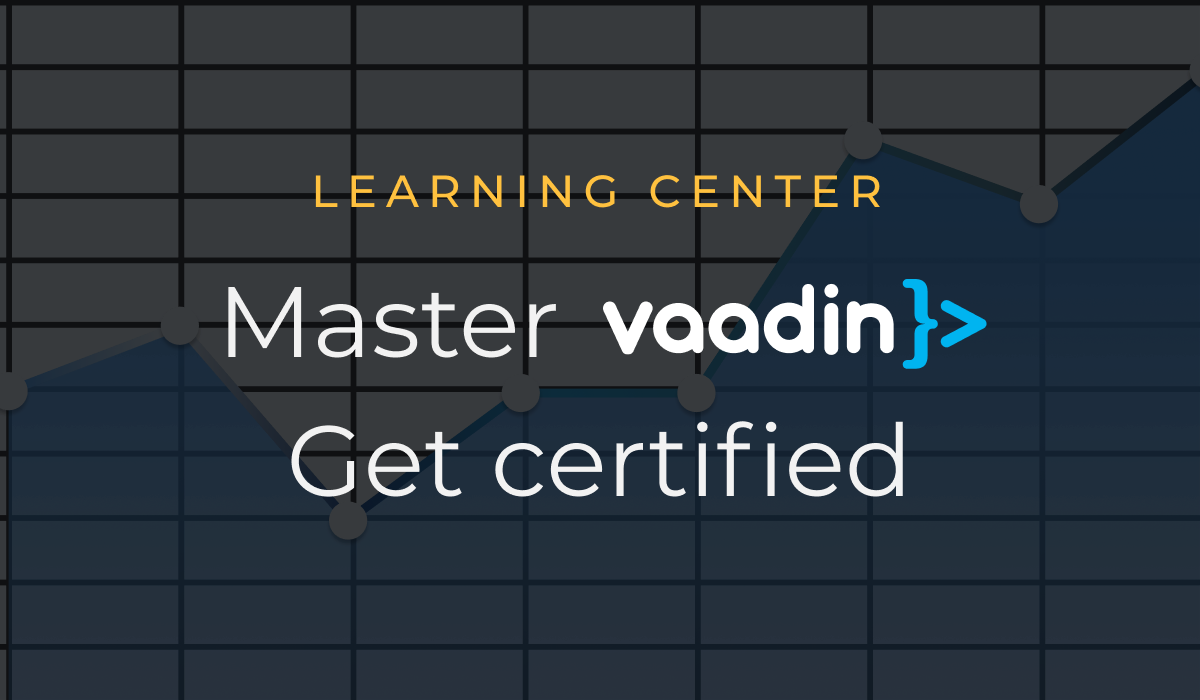 Vaadin is proud to announce the launch of the new Vaadin Learning Center. To make learning easier, we have integrated our on-demand video courses into the learning center and have introduced training tracks to guide you on your journey to becoming a Vaadin professional. In addition, we now offer the option to become a certified Vaadin developer. Both the learning center, which includes all training courses, and our certifications, are accessible through a new affordable learning subscription plan, called Plus.
Pro, Prime, and Enterprise customers can access all the features in Plus with their subscription.
Training
All on-demand video training is included in the new learning center. Content is arranged in tracks and there are clear paths to guide you through learning the most important Vaadin topics, whether you are looking to learn Vaadin basics or to become a Vaadin master. For example, in the Layouting course, you'll learn how to use the layouts to build various arrangements. In the Forms and Databinding course, you'll learn ways to bind your business logic data objects to the UI to effectively manipulate data. The Create Custom Elements course shows you how to create more components when the built-in Vaadin components are not enough for your purposes.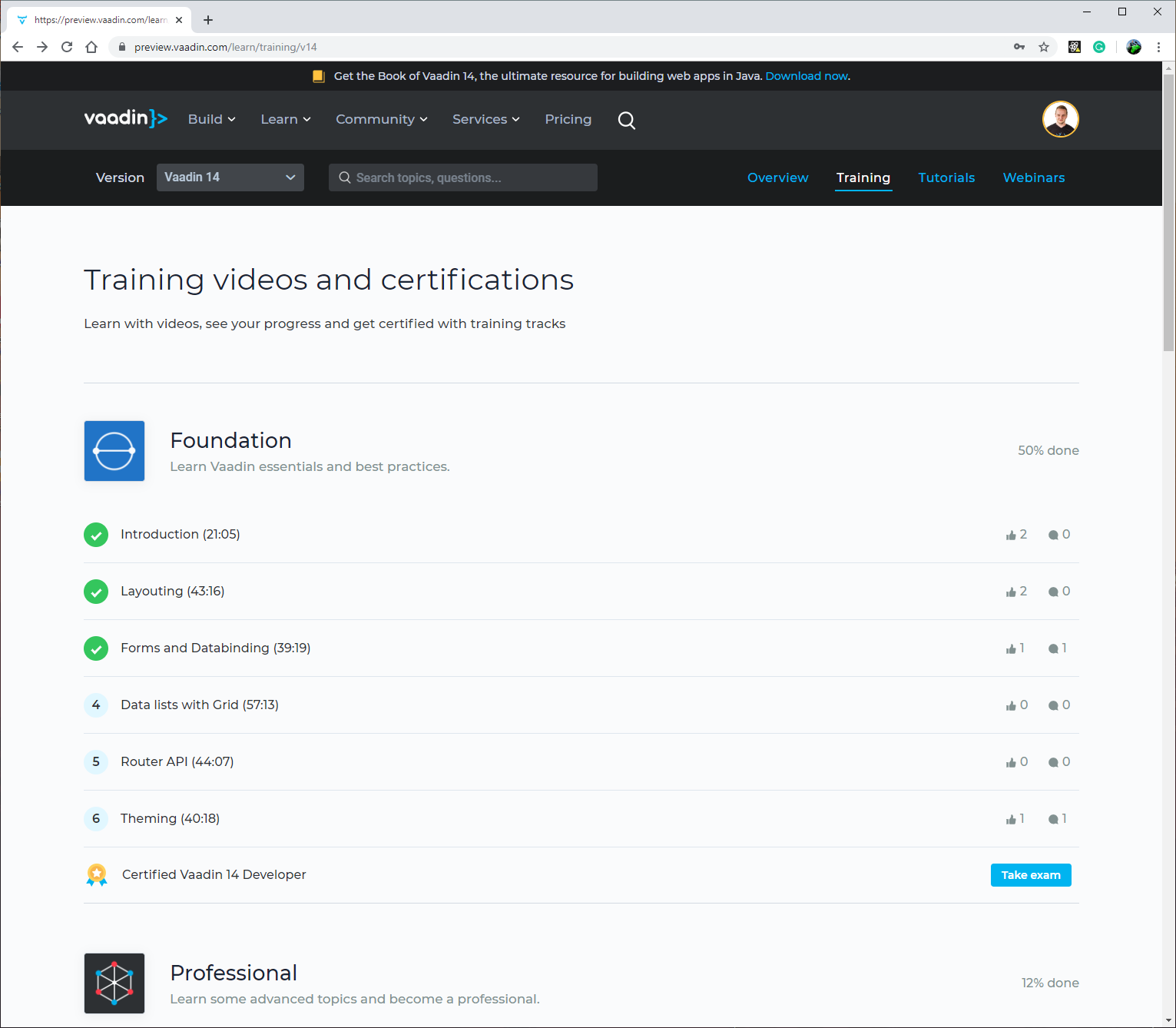 With the training videos, you can learn how to build apps with Vaadin effectively, without the need for trial and error. You will also get validation and a confidence boost by verifying that your approach is the most efficient way of doing something. The Introduction to Vaadin 14 course is freely available for anyone who has signed up to vaadin.com. Please have a look.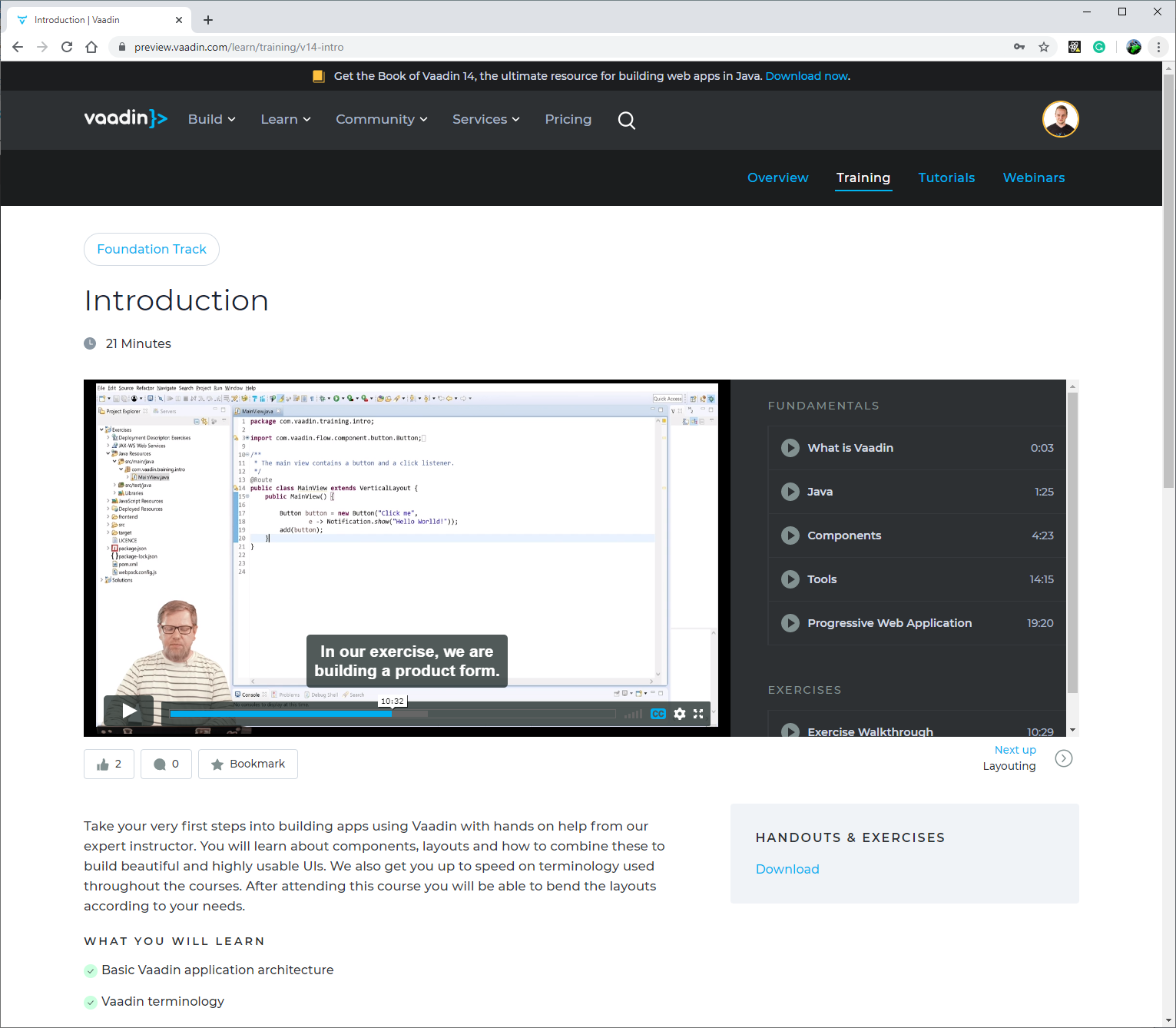 Certifications
Each training track has a certification test at the end. With an active Plus or higher subscription, you are eligible to take any track certification exam.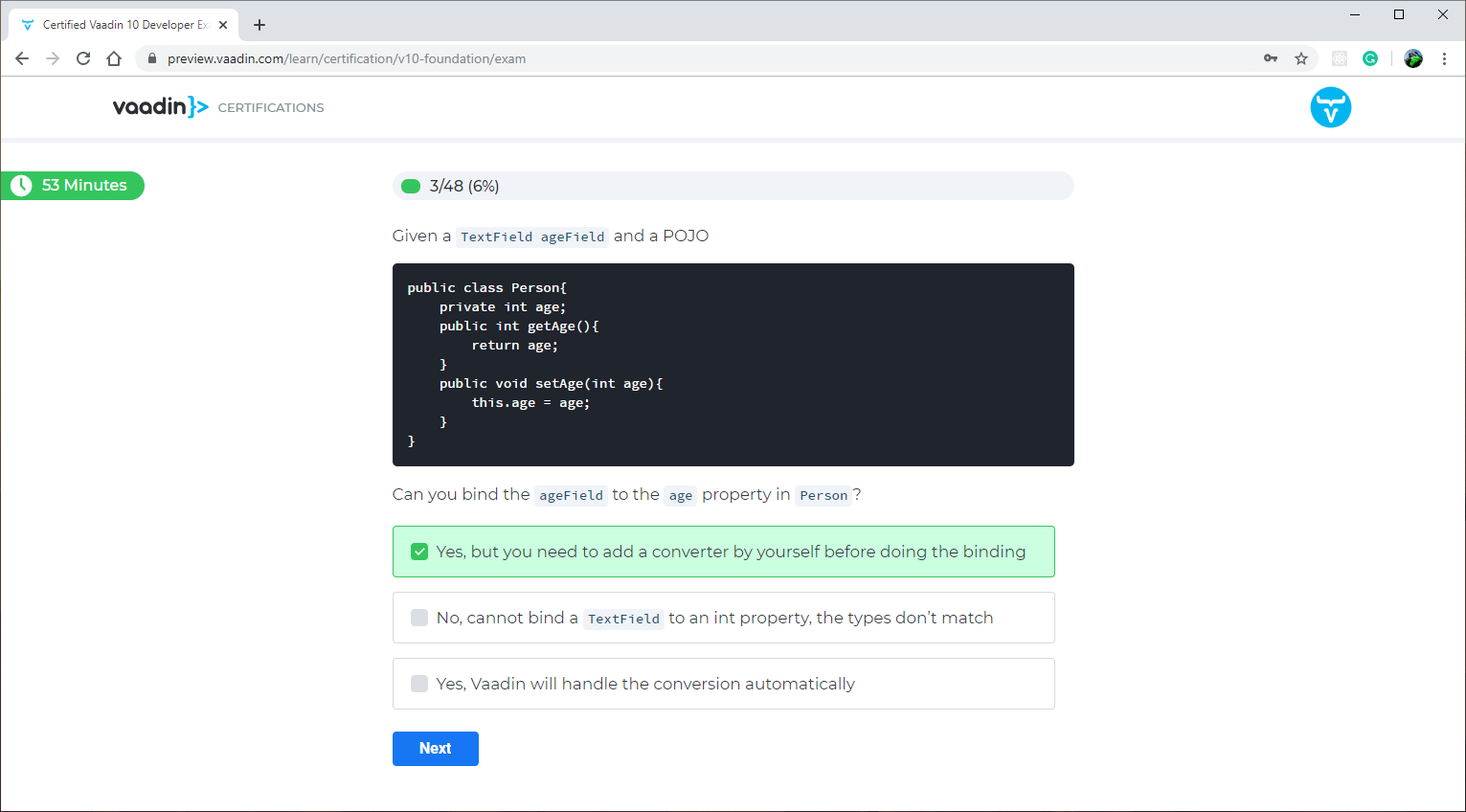 A certification has numerous benefits for you or your company. For example:
For individual developers, a Vaadin certification shows that you are a talented web app developer who has mastered Vaadin. This is a great addition to your CV, which will help you get hired for web app development jobs.
Consultancy companies are more likely to close a consultancy deal when their developers have a certificate showing that they have the skills needed for the project.
And, of course, you also get to brag to your friends.
The following certifications are available
Vaadin 8 certified developer
Vaadin 8 certified professional
Vaadin 10 certified developer
Vaadin 10 certified professional
Vaadin 14 certified developer
Vaadin Plus
Vaadin Plus is a new affordable subscription plan that gives you access to all training videos and certifications. Pro, Prime, and Enterprise customers can access all features at no additional cost. You can sign up for Plus with monthly or yearly billing, and you are free to cancel your subscription at any time. Certifications obtained during an active subscription remain valid indefinitely and can be downloaded even after the subscription has expired. We will continue to add new training videos, new specialization exams, as well as completely new features (beyond training and subscriptions) to Plus in the future.
Pricing
| | | |
| --- | --- | --- |
| | Monthly billing, per seat | Yearly billing, per seat |
| USD | $9 / month | $90 / year (€7.5 / month) |
| EUR | €8 / month | 80€ / year (€6.67 / month) |
The learning center and certifications are all available today!

Thank you for reading this blog until the end. Send me an email at peppe@vaadin.com before the end of December 10th, 2019 and I'll send you a personal coupon code. With the code, you can sign up for the Plus subscription and get the first three first months free. You can even cancel the subscription before the expiry of the initial period without being billed. Why not try to get fully Vaadin certified within that time period?