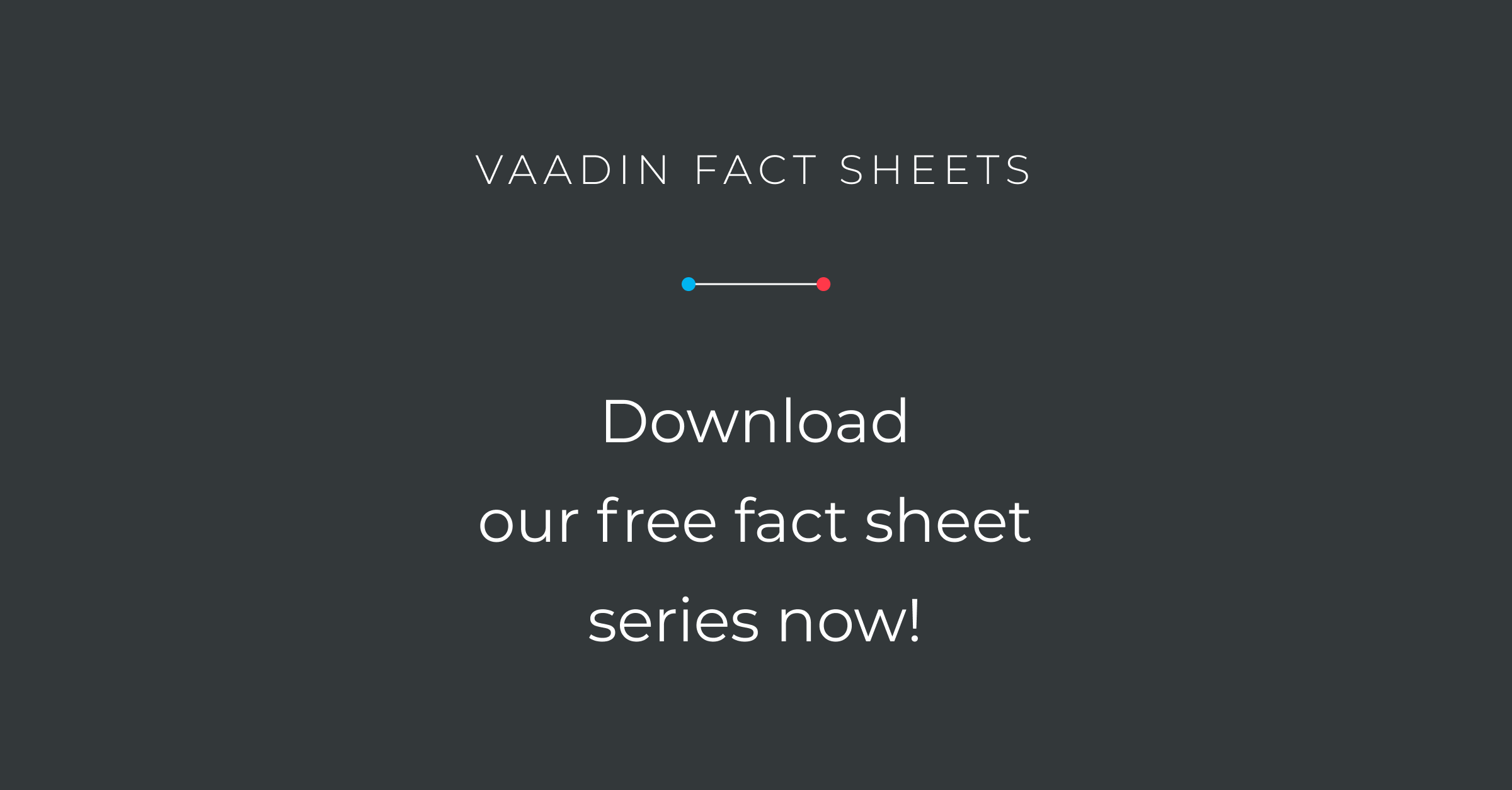 It's been almost 20 years since Vaadin began helping developers build performant, user-first Java web applications. Things have changed a lot since then.
To give new (and returning) users an overview of Vaadin's features, we are releasing a series of free fact sheets outlining the different parts of Vaadin.
At a glance, users can see a comprehensive overview of the key features and tooling available to Vaadin users today. The fact sheets are easy to share and useful when you need to present or explain Vaadin to your colleagues or company management.
If you need assistance evaluating or championing Vaadin within your organization, our dedicated sales team is here to help, so please contact them here.
Fact sheets for the Vaadin framework, Vaadin components, Vaadin Designer & Vaadin Charts are currently available for download at the end of this article, with more to follow.
What is Vaadin like today?
In recent years, our team has worked hard to modernize Vaadin and improve developer productivity. Major changes include a switch to the platform-agnostic Web Components standard and integration of the modern JavaScript toolchain into Java applications.
As such, Vaadin 14 (our latest LTS, released in 2019):
Is a robust open-source framework with powerful abstraction capabilities for developing enterprise-grade web applications completely in Java

Uses the Java API and the latest Web Component standards to build reusable, cross-platform, component-based UIs entirely in Java.

Features a large library of web components, both free and commercial.

Offers commercial licenses which include expert support, consulting, training and exclusive tools, such as Vaadin Designer and Vaadin TestBench, to improve developer experience and collaboration capabilities.

Will receive free updates and maintenance releases until the end of July 2024, and for Enterprise subscribers until July 2034.
Download the free fact sheets
To learn about Vaadin's features and how they can enhance your workflow, download the available fact sheets below:
Don't forget to let us know your thoughts about the current iteration of Vaadin in the comments below.