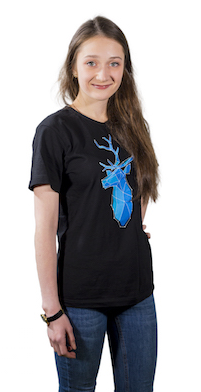 Sometimes things just click. Anastasia is studying for a Master's degree in Information Technology at the University of Turku and at the end of 2015 she was looking for an interesting topic to cover in her Bachelor's thesis.
"My journey with Vaadin started with my Bachelor's thesis, which was a Vaadin and GWT comparison. At that point I already realised that it would be great to connect my work life with Vaadin. A friend of mine pointed out that Vaadin was looking for an intern - and of course I took that chance and applied. So here I am now!" Anastasia says.
Vaadin Internship Program
The Vaadin internship lasted for 5 months, and gave students an opportunity to jumpstart their professional career with tech companies. The interning tech student gets introduced to Vaadin while working with diverse teams and the right team will be chosen depending on the intern's studies and background.
"We went through a training project to understand the main features of Vaadin Framework. It also taught us to ask for help wherever it's needed. Then, after the project completion I became part of the Vaadin Support team and I started to do the daily tasks our team does." Anastasia sums up her onboarding at Vaadin.
Daily life on the Vaadin Support team
While working in the Vaadin Support team, Anastasia solves various issues, bugs, and tickets on a daily basis. Every day brings something new to fix or learn.
"Usually my day starts around 7am, but I arrive a little bit early to look through the updates and news. If I have left something from the previous day, I continue working on it right away, otherwise I check for new tasks. There is always something to do. One of the great things of Vaadin is the fact that we can spend some time on projects not directly related to our work, but which improve our skills and understanding. Also, there are always questions to answer on our forum and I can also learn something new from those questions."
Vaadin gives the freedom to organise your working day and time flexibly which has enabled Anastasia to attend lectures at the university while doing the internship. "If I have lectures at the university I can go there and, if some tasks are left at work, I can go back to work after the lectures. It might sound like a lot of work to do and it is, but Vaadin takes into account that I am still a student and encourages me to study well. "
Vaadin is information, communication and technology
Vaadin is a multinational company with over 130 employees, of which most work at Vaadin HQ in Turku, Finland. "There are so many personalities and so much internal knowledge at Vaadin. It is really easy to ask anyone anything, and in case we don't know within my team, there is someone else to ask from."
After her internship, Anastasia was invited to join Vaadin as Junior Vaadin Developer and now she is working part-time. "You really get to do things at Vaadin.There is real team spirit and the possibility to contribute to Vaadin. Many thanks to my team and of course to my supervisor Maintenance Manager Tatu Lund."
For the time-being, she does not have much free time but every now and then Anastasia dances. She loves to do dance choreography and salsa. She also loves reading, and her favorite writers are Dostoyevsky and Remarque.
Want to be like Anastasia?
Combine your love of Java technology with great colleagues? Take a look at the open opportunities at Vaadin and apply now!

Vaadin Jobs