Vaadin is an open-source, enterprise-first, full-stack web framework and toolkit for building functional, stable and performant progressive web applications (PWAs) in Java. It's completely free for commercial use, but offers a wide selection of paid, enterprise-grade support, consulting services and productivity tools to help your team succeed.
Forever free and open source with robust vendor support
Vaadin is a vendor-supported, open-source framework released under the permissive Apache 2.0 license. This means that Vaadin is completely free, with no hidden costs, even for commercial projects. Vaadin Ltd. maintains, updates and ensures compatibility of all underlying technologies. In addition, if your team requires mentoring, productivity tools and development assistance, we offer a number of premium subscriptions. Premium subscribers receive expert support, development assistance, custom features and productivity tools directly from the makers of the framework.
Learn more about our premium support services
The UX advantage
An exceptional user experience has the power to inspire productivity, drive sales and retain customers.At Vaadin, we believe in the fundamental premises of functionality, simplicity and developer experience. These are at the core of our framework and allow your team to concentrate on perfecting your app's UX.
Productivity, meet performance
Vaadin offers a best-in-class developer experience, while ensuring that your web application keeps boilerplate code to a minimum, is well structured and performs at its peak.
One language, unlimited potential
Unlike frontend frameworks that require multiple languages to build the simplest of apps, Vaadin allows developers to build complex, enterprise-grade web applications using only Java. CSS can optionally be used to better style your UI. It's as simple as that.
Engineered for enterprises, built for developers
Every aspect of Vaadin was created for enterprises, while always keeping the developer experience in mind. Our framework offers the security, stability, extensive support services and tools that businesses need to rapidly develop, seamlessly deploy, cost-effectively maintain, and painlessly update performant progressive web applications.
Secure apps by default
All critical parts of Vaadin-built PWAs are stored and run on the server. This provides unparalleled out-of-the-box security against common threats, including XSS, DOS, and more.
Business outcome: Better security at a lower cost.
A global talent pool of 7+ million developers
Vaadin is straightforward and easy to learn for any Java developer. This allows your organization to tap into a talent pool of over 7 million skilled Java developers.
Business outcome: Faster hiring process, and reduced labor and onboarding costs.
Everything you need out of the box
Vaadin ships with all the technology, UI components and tooling needed to make the app-development process productive, simple and highly efficient.
Business outcome: Rapid time to market and more time for user experience.
Stability first
Vaadin's enterprise-first release model and extended support options prioritize stability, allowing your team to prioritize new features that bring tangible business benefits and user value.
Business outcomes: Lower maintenance costs and more resources for user experience and value-generating features.
Consistent, reusable and stunning UIs
Vaadin offers the ability to build modular and reusable UIs implemented using standards-based web components. Comprehensive documentation, theme packaging features and customizable documentation ensure that developer-designer collaboration is smoother than ever.
Business outcomes: Rapid time to market, consistent branding across views and projects, minimal effort for excellent UX
Standards-based by default
Vaadin-built PWAs are built on standardized technologies that are backed by Apple, Microsoft and Mozilla. This means that all features are natively supported on all modern browsers, allowing you to code an app once and run it everywhere.
Business outcomes: Rapid time to market, increased compatibility, ease of updates and lower maintenance costs.
The freedom to focus on the things that matter
- your business and users
Modular UIs that are easy to maintain
Vaadin builds web applications in a decoupled manner and employs reusable components to construct complex UIs. This ensures a modular, performant and cleanly-structured web application with an easily-extensible codebase that can be worked on by multiple teams simultaneously.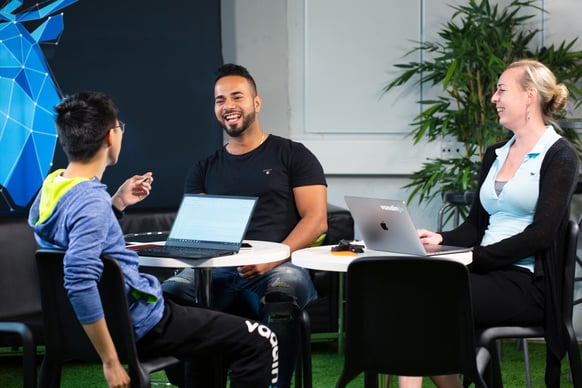 Upgrade at your own pace
New framework releases often involve breaking changes that require your team to constantly upgrade your application to keep up with the underlying technologies.
Vaadin understands that the complexities of enterprise applications can make this a costly endeavor. That is why all of our long-term-support (LTS) releases come with 5 years of public support and updates — and enterprise subscribers can extend support for a total of 15 years.
This means 15 years of security updates, patches and fixes to any LTS Vaadin version. You can:
Focus development time on adding features that bring value to users.
Keep maintenance costs down.
Ensure a consistent user experience.
Upgrade your application to meet your business needs, not the needs of the framework.
Success powered by Vaadin
Vaadin powers critical infrastructure and applications for over 40% of Fortune 100 companies.
Read customer stories
We could never have gotten this far without Vaadin. Bringing a product from concept to commercialization this quickly is simply not possible in other technologies.
Vaadin Services
Vaadin offers more than just a framework. Building a Vaadin app can be a loyal and successful partnership.
Our wide range of support, design and development services ensure that your application is delivered on time, on budget and ready for success.

Support services
Vaadin offers a range of support options, from free community assistance to premium 1-1 consultations with the developers behind the framework.
Vaadin's premium support options, available exclusively to commercial subscribers, provide in-depth development assistance, which will help your team succeed. In addition we provide free community driven support for developers using Vaadin open source core.


From March 2019-March 2020, our support services earned a cumulative rating of 96.4% from the thousands of customers we helped.
Premium 1-1 support options
Expert Chat
A direct channel to a Vaadin expert at the click of a button. You can ask about anything, from best practices to coding problems and advice about application architecture.
Vaadin Mentor
Your team's personal guide to all things Vaadin. A mentor will get to know your application domain intimately and ensure that your team steers it to successful delivery.
Expert on Demand
We can help you in every stage of your development project, be it custom component development or debugging an application.
24/7 Production Support
Minimize production downtime by quickly resolving issues in Vaadin products. Our team is reachable 24/7 by phone, online chat or email.
Warranty
Found a bug in Vaadin? Just flag the error and we will move it to the front of our development queue, ensuring that your team gets the experience they deserve.
UX and design consulting
The right user experience can increase customer satisfaction, boost conversion rates and bring a whole lot of benefits to your business. Our dedicated team of designers and UX specialists are experts on what creates an exceptional user experience.
Our UX and design services include:
Concept design
Conceptualizing the perfect user interface for your web application is one of the most critical and challenging parts of any project. A successful design requires extensive validation, refinement and exceptional communication. Our expert designers and UX specialists work with your organization to convert your ideas into tangible prototypes that reflect your vision and objectives.
Design systems
The importance of design as a competitive advantage is growing, and so is the necessity of seamless collaboration between design and development. A design system ensures this collaboration, by defining a set of reusable application building blocks. Each block fits together to create a complex, stunning and user-friendly interface. Our team will work closely with your team to produce a design system that best suits your project.
App modernization
Modernizing the user interface of a legacy application is a uniquely challenging task. Existing users must find familiarity, while all users should love using it. Our team will make sure that your new project maintains the best of your legacy application, while eliminating any flaws.
UX testing
Having doubts about your current user experience? Our team will conduct thorough audits to identify any user pain points and issues in your application's UX.
Development consulting services
We have been building business web applications since the year 2000. Our clientele comprises industry leaders in all business verticals, from aerospace to insurance, from logistics to healthcare and beyond.
Reduce your overhead and streamline the development process by securing Vaadin's consultants to build your application for you.
Turnkey solutions
Every organization and project is different. We offer customized consulting solutions that will ensure that we meet your team's unique needs and budget. We can work together with your other vendors and consultants, embed ourselves within your team, or handle the entire project under your direct supervision. The choice is yours.
Migration services
Make sure your business web app stays relevant! Whether it is a desktop application, a legacy web app, or even an older Vaadin application, you can use our Migration Assessment service to ensure a smooth, risk-free migration that stays on time and within budget. Our migration consultants can work independently or alongside your team to ensure the success of your migration project.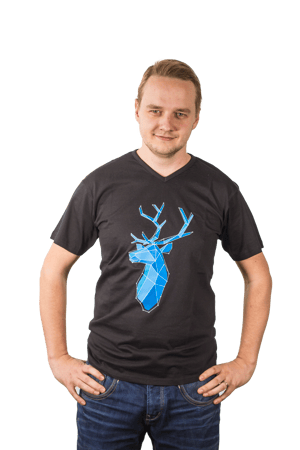 Ready to innovate with Vaadin?
Vaadin's core mission is to provide best-in-class developer productivity. Your team can build modern business web applications with Java at at a breakneck pace, while keeping their focus on the business logic, and ensuring great UI and UX for end-users.
Jens Jansson, Senior product manager

The framework
Vaadin offers your team the freedom to build entire web applications using Java. Vaadin allows developers to create UIs in a modular, reusable manner and securely automates the connection between the UI and the backend. All the underlying technologies are curated and optimized by experts to be secure, compatible and performant out of the box.

UI components
Vaadin ships with a library of feature-rich, reusable and fully-customizable UI components that allow you to build modular UIs with a great look and feel. The components are all responsive. They also support touch, mouse and keyboard input for comfortable operation on a variety of devices.

Premium tools: Vaadin Designer
This visual UI builder allows developers and designers to easily collaborate and build modular user interfaces. It's the fastest and most productive way to build UIs for Vaadin applications.

Premium tools: Vaadin TestBench
Automate and speed up your UI testing with Vaadin TestBench, which allows you to easily simulate real users and test your entire application--from the database to the browser.
Premium feature: Vaadin Collaboration Engine
Coming Q4 2020.
Vaadin Design System
Coming soon.