I caught up with Devarsh Desai on an Ask Me Anything session via Skype. We discussed how the last few months have been, the challenges he faces ahead, and any advice he might have for new candidates.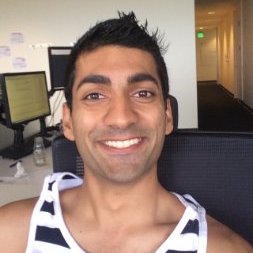 Devarsh met the team at an HTML5 Developer Group talk at Google in San Francisco. "It was actually my first introduction to Vaadin's work with Polymer and had a really good time that evening. As luck would have it, I began speaking with Vaadin's recruitment team a week later, hit it off with the US engineering group a couple of days after that and before I knew it, I was wrapping up my on-site interviews".
He's enjoyed working on his first case project which deals with an end-to-end platform for the registration, management and delivery of geofences. "The intersection of business knowledge required to lead a project as well as the technical competency for the implementation is a lot of fun. Within a couple of hours on any given day, we've had meetings with CEOs and CTOs on the direction of our project and then immediately after that an internal talk on Shadow DOMs and Shady DOMs. The dichotomy between business and technology is great, and I'm pretty fortunate to be able to learn on both those topics."
Life is a continuous learning curve and Devarsh is studying at UC Berkeley. "I'm also a phlebotomist, that means I take samples from my patients through their antecubital veins in their arms and hands. The biggest thing I've learned is how to listen to my patients. It's an invaluable skill, and I try to make my customer meetings a reflection of the same critical thinking. I'm also concurrently enrolled at U.C. Berkeley where I study chemistry. While it doesn't directly translate into a beneficial relationship for work, I'm fortunate that I'm able to study while working full time, and that refreshed feeling I get from studying the hard sciences makes my day that much better."
It is great to see new faces, personalities and skills at Vaadin. If you haven't seen them yet, also check out Sebastian from the Berlin office and Johannes from Vaadin HQ before to get to know more people at Vaadin.
To see yourself here, check out the open positions at vaadin.com/jobs and apply today. If you have any questions or comments, leave a comment below!