Once again we are heading to Jfokus 2014 which is one of the largest Java developer events in Europe with over 1500 attendees, over 50 conference presentations and world class speakers. Jfokus is held in Stockholm on 3rd-5th February 2014.

On Monday February 3rd we are going for a cruise and hopefully many of you can join us on M/S Viking Grace at the Vaadin Developer Meetup Cruise!
Warming up for Jfokus 2014
The cruise is a warm-up for the annual Jfokus conference with speakers from Google, Tomitribe and Vaadin. The cruise is a unique opportunity for every Java professional to attend the Jfokus 2014 conference, network with other Java professionals and meet 'n' greet the team behind Vaadin.
The speakers for the meetup this year are Mandy Waite from Google, David Blevins from Tomitribe and also Joonas Lehtinen from Vaadin. David Blevins from Tomitribe will talk about Building applications with TomcatEE, and Mandy will continue with Building Mobile Backends with the Mobile Backend Starter. Joonas will give you a sneak peek, among others, at the upcoming Grid component and the new theme.
Jfokus 2014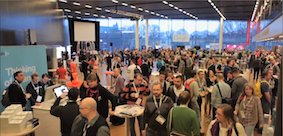 At Jfokus, we will have a booth in the exhibition area, so in case you are attending the conference come by to say hello. Don't miss Vaadin's Kim Leppänen and Leif Åstrand's presentation on 'RIA security based on OWASP Top 10' on Wednesday Feb 5th at 2pm. at Room C4.
Sign up now!
The Vaadin Developer Meetup is free-of-charge, all you need to do is sign-up and book yourself for the cruise. At the same time you can also register to Jfokus to see and hear the latest news on Java.
The whole week will be a blast, hope to see you onboard M/S Viking Grace and at Jfokus!
Tanja Repo is Vaadin's Marketing Magician which means her responsibilities are marketing communication and its coordination in all its glory. Tanja has vast experience around events and has worked with various software industry players. Technology has always been a mystery to her, that she wants to unveil. Loves to laugh, smile and drive around with her Vespa. You can follow her on Twitter – @RepoTanja