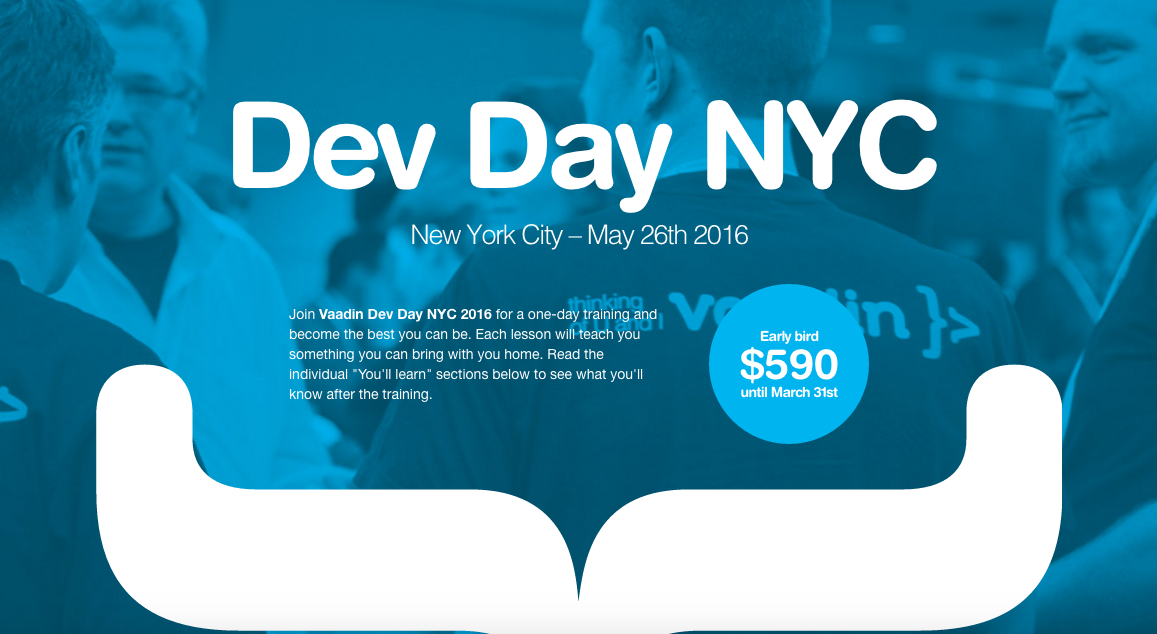 As you might know Vaadin Dev Day is hosted in Berlin, Germany on May 24th – BUT we're also in New York on May 26th with the same setup!
The top 5 reasons for joining the event are:
You'll learn more than anywhere else in one day about Vaadin development
You'll get to ask questions from core Vaadin team members Henri Kerola and Peter Lehto with experience from 50+ Vaadin projects
It only takes a day and you'll save that time by using what you've learned already the next day
This is a once in a lifetime opportunity – now's your chance!
It costs less than a training class and you get 6 lessons for the price of one
In New York we're located at the Kimmel Center. The event is two months from now with limited seating, so sign up today.

The topics for Dev Day are:
Supporting mobile, desktop and tablet by building impressive layout systems
Picking the right architecture, sticking with it and evolving it
Best practices: Binding business data to Vaadin's components
Keeping business logic outside your UI
Optimizing Vaadin Applications
Background threads, asynchronous communication and Vaadin: Doing it right
Creating Vaadin UIs without coding, in plain HTML or in WYSIWYG
Q&A with your specific questions
May 26th for Vaadin Dev Day in New York - early-bird tickets are available until March 31st ! In case you are located in Europe, check out Dev Day Berlin on May 24th.