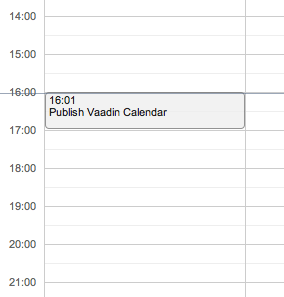 Good news for all Java and open source enthusiasts! We have decided to open source the Vaadin Calendar add-on for everyone. Previously dual-licensed either under AGPL open source license or CVAL commercial license it is today available under more liberal Apache 2.0 license. The Vaadin Calendar will continue to be a first-class Vaadin component and we will continue to keep it the best calendar widget of them of all.
Vaadin 7 support is here
For those who haven't seen the component earlier, the Vaadin Calendar is a component for Vaadin to display and edit weekly and monthly calendar views. The calendar includes many nice features like drag and drop editing of events as well as locale and timezone support. Previously available as an add-on for Vaadin 6 the version 2.0 of the add-on supports Vaadin 7.
The top conference calendar
During the last couple of years the Vaadin Calendar has been widely seen in different Java conferences as their schedule browser. That is originally because the Devoxx schedule built for 2010 edition of the European conference. This application uses the Vaadin Calendar to display the schedule for the conference. Since then the application has been themed to match the Devoxx and Jfokus conference website styles. If you like to take a look how to style the Vaadin Calendar, the schedule application is open source and available at Google Code.

We hope the license change is encouraging people to create more similar success.

PS. We will discuss about the Vaadin roadmap more in a separate blog post soon.