Vaadin online support - no more unresolved problems
For the past year we have been able to help a lot of Vaadin developers through our online developer support service, also known as Pro Account. Our Vaadin experts have done a good job and have been able to solve the vast majority of support requests, but there are still some issues left unresolved. This is of course not acceptable and we have been thinking whether there is something we could do to improve our service.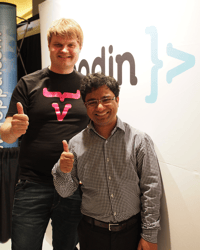 The most common reason for unresolved support requests occurs because our support team has failed to reproduce the problem our customer has reported. This usually is a consequence of the limitation that our customers are not allowed to send the project source codes to the Vaadin team for analysis and the fact that most Java applications interact with a bunch of external components like databases, messaging queues, etc. which are extremely hard to replicate. Therefore a separate reference application is often needed to demonstrate the initial problem. This approach is however very time consuming and may not always succeed to reproduce the initial problem. Spending valuable development time on simulating or reproducing the actual problem is just a waste of time and frustrating, both for our support team and for our customer superhero Vaadin coders.
Chronon technology will help us to reduce the overhead effort needed in delivering online support for Vaadin developers and that is the reason we decided to join forces with Chronon Systems. We signed a technology partnership at JavaOne 2012 that was announced with a press release on 8th Nov, 2012. As you can see from the picture, both Vaadin and Chronon are very happy about it. Although I didn't make it to the picture with Joonas and Prashant, I agree with them :)
Streamlined support delivery with Chronon
Chronon develops software to record Java applications in real-time and to quickly resolve complex issues in multithreaded, distributed applications. Chronon's core technology focuses on simplifying problem resolution in all phases of the software lifecycle. Chronon Java DVR records the entire Vaadin program execution, system independently. It allows the replicating of the program execution by remote development teams, without exposing any confidential application source code and without the need for any external components like databases, etc. The recordings make sure that the original application execution can always be replicated as is by the Vaadin support team.
Using Chronon Java DVR in Support Request delivery process benefits all involved parties.
Our customers can save several hours by recording the actual problems directly from the project that they are working on. Instead of developing a separate application to illustrate the encountered problem in the main application, our customers can now send the recorded file to Vaadin experts. No tedious reference application development needed, no project source codes needed to reproduce the problem.
The Vaadin experts will be much more efficient in resolving customer problems. They don't need to set up a customized project environment that mimics customer setup nor do they need to waste time in reproducing the problem. With the Choronon Time Traveller they can just jump directly to the point in which the problem occurs and start resolving the root cause immediately.
Chronon Java DVR - how do I use it?
There are several options to produce recordings that can be sent to Vaadin support team for analysis:

Pro Account customers can ask the Vaadin support team for a temporary Embedded Chronon license for using Chronon's Java API calls inside their application to produce recordings. Alternatively support customers may use free trials or commercial licenses of Chronon Recording Server or Chronon Time Travelling Debugger.
Learn more about Chronon and their products. They have also good tutorial videos that get you started.