We're pleased to announce the public release of Tori – the modern and sleek discussion forum for Liferay portal. We've kept Tori under the blanket while developing it and gathering feedback from you in the Vaadin community for more than a year, but now the time has finally come to turn on the spotlights and direct them at Tori.
Did you think you knew Tori? Look again. It's completely renewed since 4 months ago, with a new look and feel and many smaller enhancements since then.
What then makes Tori special? Isn't there a Message Board inside Liferay already by default?
Tori is a full-blown single page application where you move smoothly between threads and topics. Another central part of Tori is push messages. Whenever somebody posts a message or is writing something in the same thread as you (psst! did you notice the rich text in-place editing of your posts?), you'll immediately see what's going on in real-time.
The largest enhancement in the latest release, Tori 1.1, however, is continuing the beautiful UI experience to your mailbox. And being a generic portlet, all this is tweakable in the admin console of Tori, so that you can make it look just like your own portal. And even more enhancements based on your feedback are in queue.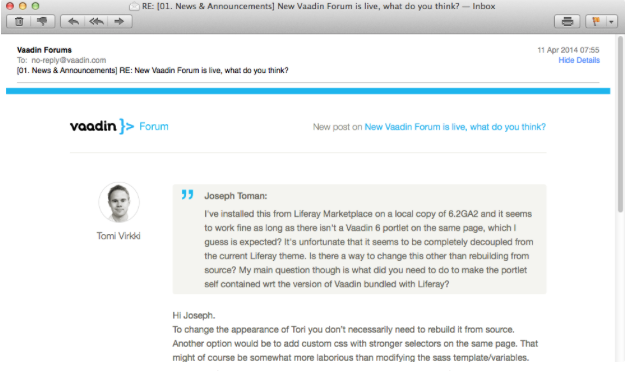 Tori 1.1 by default sends HTML emails that look like your forum continuing the user experience outside your forum
The theme in Tori is customizable with Sass (or CSS) to fit your look and feel. You'll be able to make it look like your own site, online as well as in the emails. But we didn't stop there. You can also create your own custom tags. We've even started hosting our Webinars inside Tori through a custom youtube-tag.
We've also built in SEO support so that search engines crawling the site can crawl for all the relevant data while at the same time maintaining full backwards compatibility with Liferay's own message board. And you can add Google Analytics by just adding your UA-code to the settings screen. Tori is a full drop-in-replacement for Liferay Message Board that follows your message board settings and privileges plus so much more.
Tori, meaning 'town square' in Finnish, is available through Liferay Marketplace as a free download. You can also get it as source code directly from GitHub.
Tori will work inside any Liferay instance starting from version 6.0 and you can even run it simultaneously with the native Liferay Message Board. There's no reason why you shouldn't use it today.
Get Tori from Liferay Marketplace
Fredrik Rönnlund has been working at Vaadin Ltd since 2008. Today he works as the Batman of Vaadin Marketing, helping create meaningful content to the Vaadin users by day and fighting evil bugs by night. You can follow him on Twitter – @freducom