The people at Vaadin are at the core of our business, and with this series we want to celebrate their contributions. Plus, Vaadiners are quite a diverse and interesting bunch, so we thought you might be curious to know who's behind the scenes at Vaadin helping you build your web apps. Every few weeks we'll feature a different member from our team of smart, fun, and quirky #vaadiners.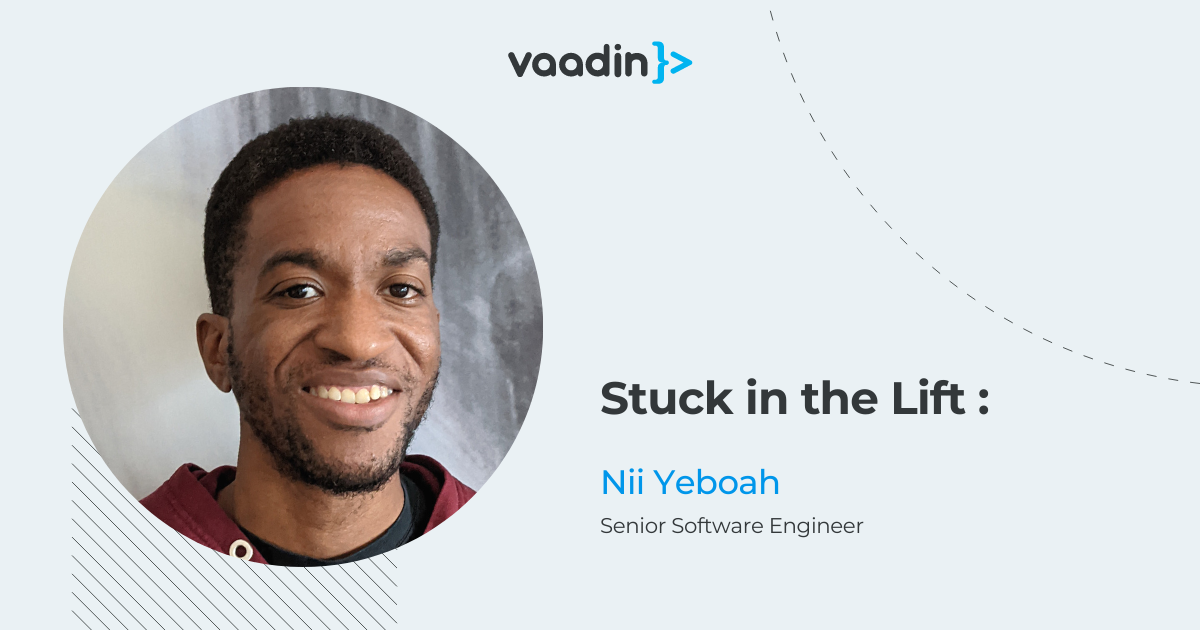 Meet #vaadiner Nii. Born in Ghana, Nii grew up in Botswana and moved to Finland by way of the US to join Vaadin in 2018. He is a Software Engineer in our Customer Success department specialising in frontend development. A lot of his recent projects have dealt with browser-based graphical systems and creating custom data visualizations. In his free time, Nii enjoys video games, music production and dancing.
Describe your role at Vaadin in 3 words.
Demanding, Rewarding, Unpredictable

What is your most memorable facepalm moment at work?
One time instead of normally joining the company All Hands meeting on Google Meet, I accidentally presented my screen to the whole company. I was also late and it had started already, so Joonas the CEO at the time said "Nii, stop doing whatever you're doing" 😬 In my defence, I personally don't understand why that option is available before joining the meeting ¯\_(ツ)_/¯
What surprises people the most about you?
I don't fit into any common stereotype very neatly, so people are either surprised by my technical skills or by my artistic talents (dancing, rapping, singing). Also because I'm originally from Ghana/Botswana, people are often surprised by my English fluency (English is my first language) and slight American accent.
Why is UX important for workplace apps?
Applications with good UX are absolutely crucial for the workplace as they increase productivity and improve "quality of life" for employees. For instance if a doctor or nurse has to navigate a horrible interface in an EMR to record and retrieve patient data this could lead to errors and actually impact the quality of healthcare.
Where is your happy place?
Reaching flow state. Being truly in the moment.
Name your superpower.
Intuitive Aptitude - the ability to innately understand and manipulate patterns within complex systems. (I actually believe I do have this power but I got the description from here 😁)
How do your relax outside of work?
Gaming (Ark with my GF or ranked games on League of Legends), making hip-hop instrumentals (beats), writing poetry and raps, working on my side project: prnt.design (an ambitious e-commerce store which will attempt to automate product creation)
Over to you, which #vaadiner would you like to see get stuck in the lift next ;)?