The people at Vaadin are at the core of our business, and with this series we want to celebrate their contributions. Plus, Vaadiners are quite a diverse and interesting bunch, so we thought you might be curious to know who's behind the scenes at Vaadin helping you build your web apps. Every few weeks we'll feature a different member from our team of smart, fun, and quirky #Vaadiners.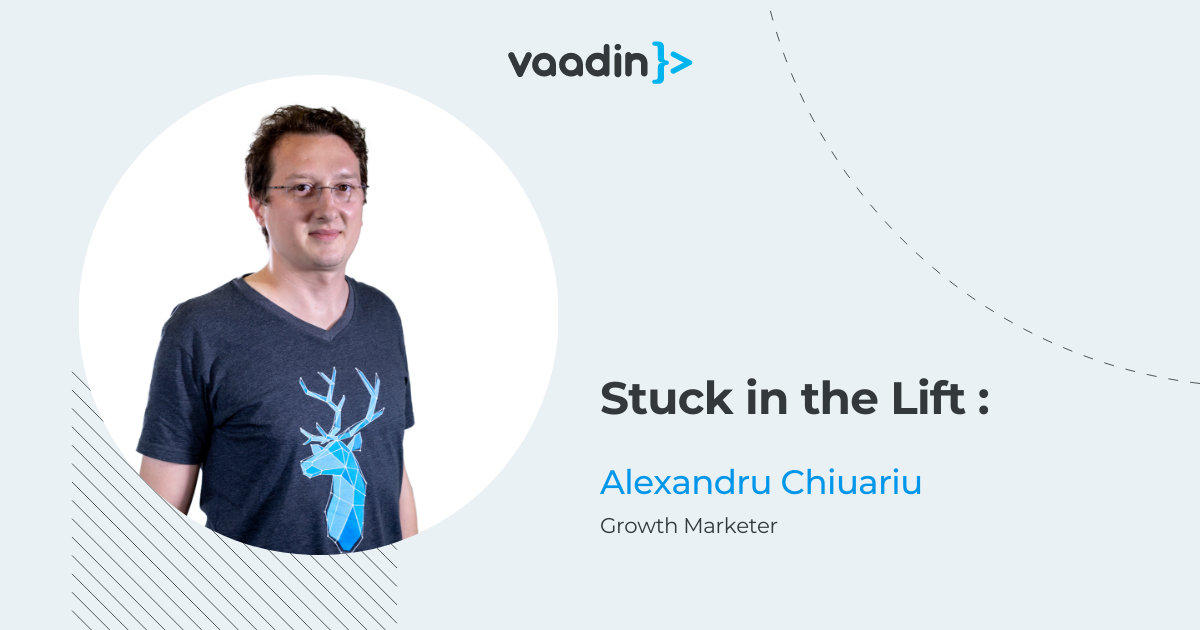 Born and raised in Iasi, Romania, Alexandru packed up his life in 2018 to join Vaadin in Finland as a Growth Marketer. If you have a Vaadin account, you've probably already bumped into in Alex or at least seen his first name in emails, chatbots, etc. His mission is to send the right message to the right audience at the right time. He's also probably one of the most tranquil people you will ever meet...
Describe your role at Vaadin in 3 words.
What is your most memorable facepalm moment at work?
This really can't be shared publicly.
What surprises people the most about you?
The fact that when I mention Alex in a conversation I'm not talking about myself in the third person (even though I sometimes use the royal 'we'), but I'm most likely referring to my girlfriend, Alexandra. The fact that her father's name is Alexandru doesn't help much with clearing the confusion, either.

Also, the number of geeky t-shirts that I have, but the Finnish summer doesn't last long enough to go through a proper rotation.

From what I've been told, I don't have an accent, so it might be difficult for some people to place me on the map.
Why is UX important for workplace apps?
Not only UX, but good UX is important because it doesn't cause frustration. On the contrary, it can boost productivity immensely. Unfortunately, not all workplace apps have good UX, but when that happens they're most probably not built with Vaadin.
Where is your happy place?
With my ears between headphones, listening to progressive rock/metal (mainly, but not exclusively) or sci-fi audiobooks, as of late.
Also, wandering into terra incognita with the aforementioned Alex.
Name your superpower.
I'm very relaxed. I'm terribly calm and tranquil. And very, very relaxed indeed. On the outside. But on the inside...
Disclaimer: If you don't think this is a superpower, I guess you don't remember 2020.
How do you relax outside of work?
It depends on the season and on the company. In the summer I enjoy taking long walks to explore the surroundings. I play squash sometimes, watch TV shows and movies (mostly sci-fi, but anything good goes), play video games, board games or chess, listen to music, drink craft beer with some very special friends, and the list goes on...
Disclaimer #2: You might find it odd to see links in a "stuck in the lift" conversation, but I'm the type of guy who shares YouTube videos, web comics and so on, especially when stuck between floors. Except that doesn't happen often enough in Finland.