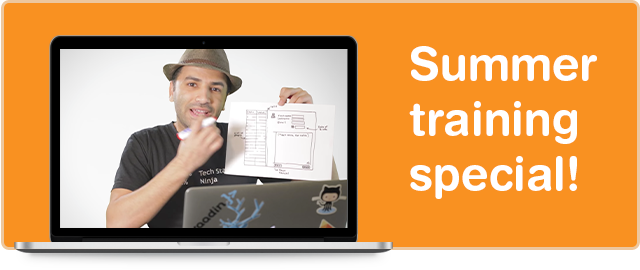 In March, 2017 Vaadin introduced Prime, our new subscription plan. Customers are now upgrading their old support contracts and enjoying the benefits of a Prime subscription, including access to Pro Tools, expert chat with Vaadin Experts, and on-demand development support. How can we make your experience even better?
Sign up for an annual Prime subscription before September 10th (extended!) and receive 12 months of online instructor-led training for free! Learn from the experts how to build a better, more compelling user experience, from the comfort of your home or office. Our dedicated trainers help you learn by going through exercises with you and your classmates in a small group setting. Annual training subscriptions are normally priced at $1,800 per developer, but are included for free if you sign up now.
The Prime subscription includes:
Vaadin Pro - the tools and elements that make you super productive! Including Designer, TestBench, Spreadsheet, Charts, Board, Full Stack Starter and more.

Expert Chat - A direct channel to a Vaadin expert. You will get instant help on UX best practices, architectural advice, and APIs...whenever you like and as often as you like...without filing any tickets!

Expert on Demand - An extra pair of hands to build custom components, enhance an add-on, develop a theme or just debug some problem code. Vaadin designers and experts will help you and your team when you need help the most.

Warranty - Covers all Vaadin products, including Elements, Framework and all components & tools. Just flag a bug and we'll move it to the front of the queue and fix it in the next possible release so that the tools you trust never slow you down.
I have some questions about the offer? Contact our team at sales@vaadin.com . We will be happy to help you!
No questions. It's crystal-clear and I want to start building better applications now. Subscribe at vaadin.com/pricing.
For all our existing Pro Tools and Support customers – you may keep your current plan or upgrade at any time by talking to our team at sales@vaadin.com.