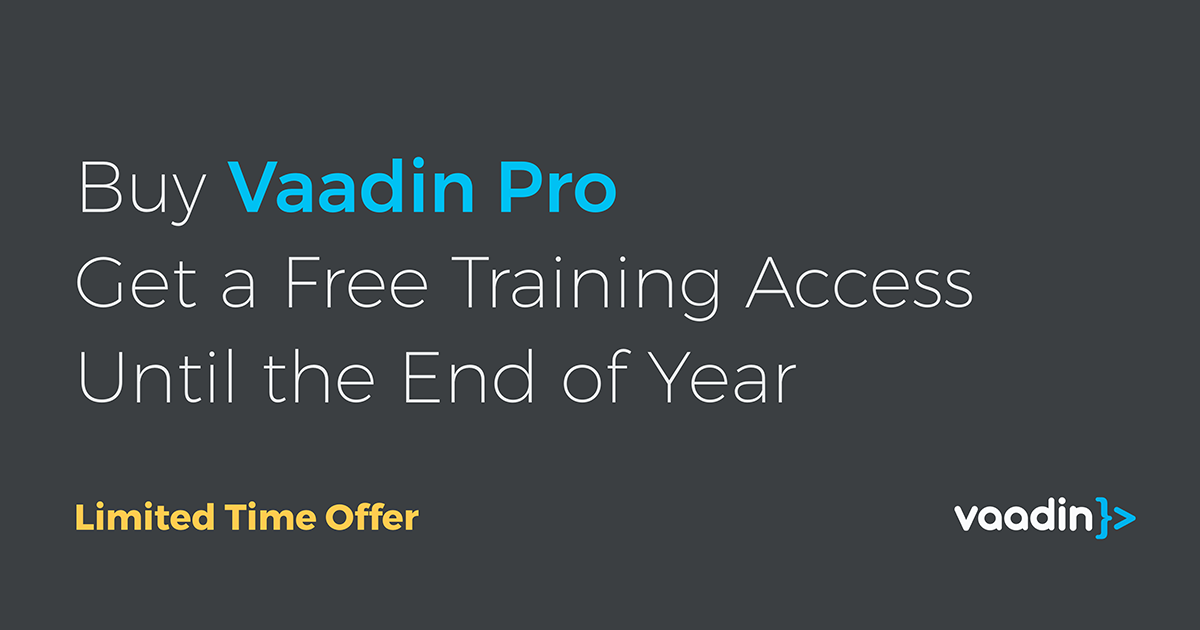 We are happy to announce a limited time offer: all new Vaadin Pro customers will get a free access to the Vaadin training offering until the end of 2018. Take full benefit from this offer and wrap-up your year in style. Get Vaadin Pro now and turn yourself and your team into real Vaadin professionals, so you can begin your 2019 faster, with stronger and bigger Vaadin muscles. This offer is available until December 14th.
What's Included in Vaadin Training?
The Vaadin training is the easiest way to master a plethora of Vaadin topics, from basic to advanced. Whether you are new to Vaadin or have used it for long, Vaadin trainings will deepen your skills. All learning happens online, using both expert-lead live training lectures and on-demand training videos you can watch anytime, anywhere. Check out the available courses.
"The mixture between explanations and well-prepared hands-on exercises was great and gave me a good overview of Vaadin best practices."
– Sebastian Steinke, Software Engineer, Red Sea Research Center
What's Included in Vaadin Pro?
Vaadin Pro gives you better efficiency, quality, and user experience. These combined, your projects will outperform your previous efforts. You'll get an improved precision of releases within budget, faster time-to-market, and higher customer satisfaction. It's a subscription and can be bought on a per-developer basis. See pricing.
Vaadin Pro licensing is for development time only and isn't influenced by how many projects you do, or how many apps you already have in production. It gives you access to the following:
Take Action Now
This limited offer is available until December 14th and will be granted to all new Pro customers automatically. If you have any questions, don't hesitate to