The Vaadin Refcard is finally out at DZone.
If you're a newcomer to Vaadin or interested in finding out what it is, the Refcard offers a great introduction to Vaadin. Much of the reference material should be also useful to those already familiar with Vaadin.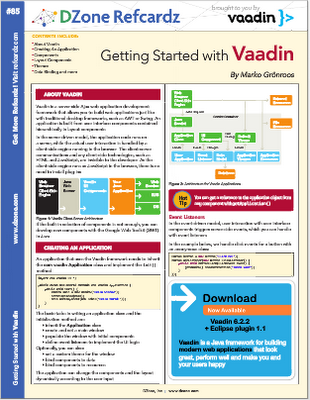 The six pages of the Refcard present a well thought summary of the most essential features of Vaadin, which are covered in detail in the Book of Vaadin. Much of the reference information is presented in tightly packed diagrams; just look at them for a moment and you'll see the genius of Vaadin :)
The contents are:
Creating an Application
Components
Layout Components
Themes
Data Binding
Creating New Components
Download yours now or browse the card on-line.