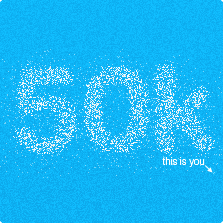 The community has always been important to us, and continues to be so. We do our best to provide interesting technologies, articles and other insights for you. Apparently we've done some things right, since today marks the day when we got our 50 000th registered user on vaadin.com. Funnily enough, it coincides pretty perfectly with our 50 000th forum post, from about a week ago.
We're quite excited about this number of members. Having watched how the community has grown from its infancy, you - the community - have always been helpful, friendly and exceptionally active. 50k is quite a milestone, and we see this as exactly that. A milestone.
While this number represents only a fraction of the size of our entire community, it gives an indication of the most active developers. More community members lead to more information on our forums, quicker answers to your questions and better questions for the archives in the future. Not only do the forums grow, but this also means more traffic to Directory; more add-ons, better feedback, more contributions...
We're not stopping at 50k, so all this will just snowball into even more of everything. Our job is to make everything about Vaadin as awesome as possible. And we can only hope that you continue to enjoy what we do, enjoy what you do for each other, and enjoy to do things for others.