Vaadin is one of the Great Places to Work companies in Finland and working here gives you a unique opportunity to work with open source tools that affect hundreds of thousands of other people's lives.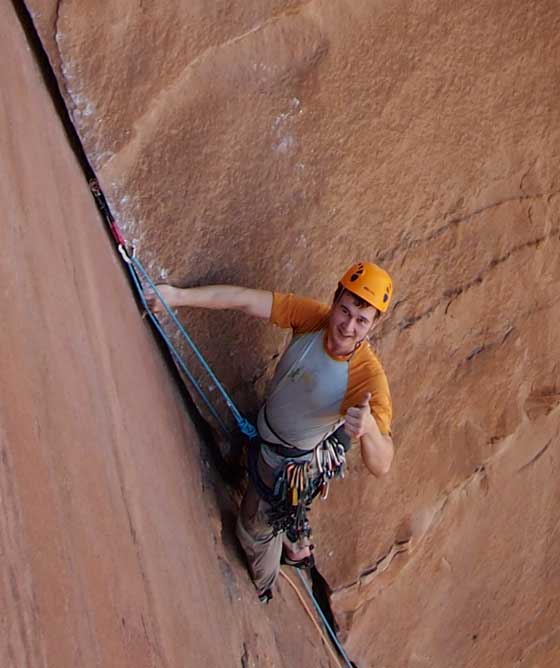 Vaadin is growing at such a rapid pace that new opportunities for both professional and personal growth arise every day. Here's the story of one.
Hello world, meet Jonni!
Jonni is a great climber and a Vaadin Expert. He's been working at Vaadin since 2012 as a developer and trainer. "I'm a sporty nerd who seeks new technologies. Earlier I worked in a smaller software company and studied IT in the university. A headhunter contacted me through LinkedIn and I got interested in developing my career at Vaadin.
During the first month I was in a training project, which served as a quick introduction to the tools. Since then I worked in one of our larger customer projects for a few years. Today I work as a software development consultant and a trainer. On the software development side, agile development really is the key to success. We use Scrum practices both in internal and external projects here at Vaadin.
In my work, I need versatile software knowledge, I have to learn what different browsers are capable of and how to create appealing user interfaces. I also need to understand the problems, think quickly and be eager to find solutions.
As a workplace Vaadin is open, skilled and constantly evolving. The best thing about working at Vaadin is the fact that whenever you get stuck with a problem, there is always resourceful colleagues you can ask for help and get unstuck. The work environment here is really good and in fact, Vaadin has been successful in many "Great places to work" listings. Another big reason for me to work here is the whole open source mentality.
Both my work and my most treasured hobby, climbing, offer interesting challenges. I have been climbing in Jordan, Iran and all over Europe. I find new energy at the mountaintops!"
Vaadin is experiencing rapid growth. Will you be the one to help us conquer the next mountain?