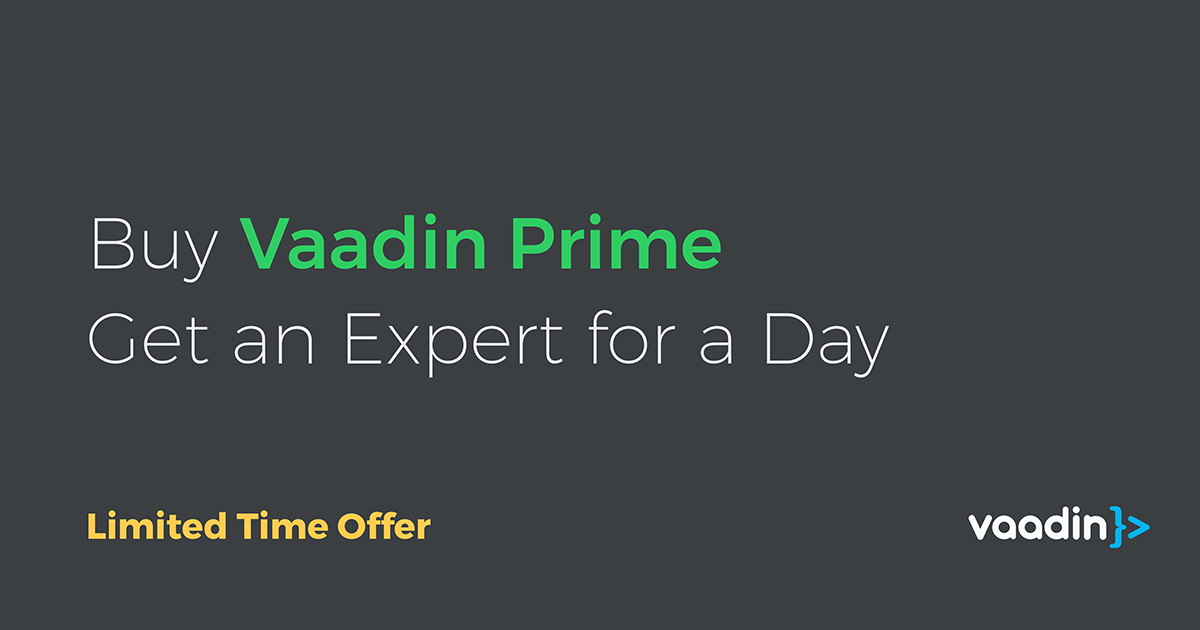 Is your team using Vaadin on a long-term basis, or building something with a long lifespan? If so, we are pleased to announce a limited time offer worth considering: all new Vaadin Prime customers will get a Vaadin Expert for a day. A full 8 hours of remote assistance, mentoring, training, problem-solving, custom development, you name it. This is the perfect opportunity to get a massive energy boost to your team. This offer is available until December 14th.
Vaadin Prime Now Comes with Multiplatform Runtime
Vaadin Multiplatform Runtime, MPR in short, allows you to run and develop Vaadin 7 and 8 applications inside a Vaadin 10+ application. This enables you to start migrating your old applications to Vaadin 10+ gradually and at your own pace, or to develop new modules in Vaadin 10+ while keeping older versions as-is in the same project.
A great option for using your 8 hours of Expert time would be to set up a migration workshop. In it a Vaadin Expert will have a discussion about your application setup and explain some of the common pitfalls when embracing gradual migrations with MPR. This would enable you to make the gradual move to Vaadin 10+ a smooth one with the right preparation!
"We had a very successful period working with a Vaadin Expert. He was talented, motivated, and friendly, with extensive knowledge of the framework. He also gave us much to think about in the ways we work with Vaadin, and we are still benefiting from his work and thoughts long after!"
– Markus Vehmanen, Product Manager, CGI
What's Included in Vaadin Prime?
Vaadin Prime is the premium package, the best and most comprehensive support option you can get. It gives you access to all commercial software products and direct access to the Vaadin team itself. You will never get stuck with technical issues, and you'll ensure staying within your budget and hitting all deadlines. Help is just one click away, without any delay. See pricing.
"We have used Vaadin Support for difficult issues, of which we didn't have the experience yet, or we couldn't find answers to in a short time. Sometimes we only ask for opinions on how to use or build components."
– Ari Koskenvaara, Project Manager, Festum
Vaadin Prime Features
The Prime subscription is packed with valuable features and covers all the possible needs you might encounter along the way.
Expert Chat: Get answers to anything Vaadin related instantly.
Expert on demand: summon an expert when you need one and use any of our professional services, like the design kickstart or the migration assessment, to mention a few.
Warranty: if any of Vaadin products are broken, we'll fix them.
Incubator: cost-effective custom component development and access to existing Incubator components.
Unlimited access to training: live expert-lead training sessions, as well as on-demand training videos.
Talent acquisition assistance: we can advertise your job adverts for Vaadin developers on our site, a place visited by all Vaadin developers in the world, every day.
Commercial app starters: proven and tested full-stack application starters with best practices.
Designer: the drag and drop visual UI builder.
TestBench: regression testing automation for Vaadin.
Charts: the best charting library for Vaadin projects.
Board: the easiest way to implement responsive layouts.
Spreadsheet: embed interactive Excel files in your web app.
Act Now!
This limited time offer is available until December 14th and will be granted automatically to all new Prime customers. If you have any questions or want to discuss details, simply