← Back
GridFastNavigation Add-on
Provides better keyboard handling and other enhancements in Grid's Unbuffered Editor mode for experienced Excel users. Vaadin 7 & 8 supported.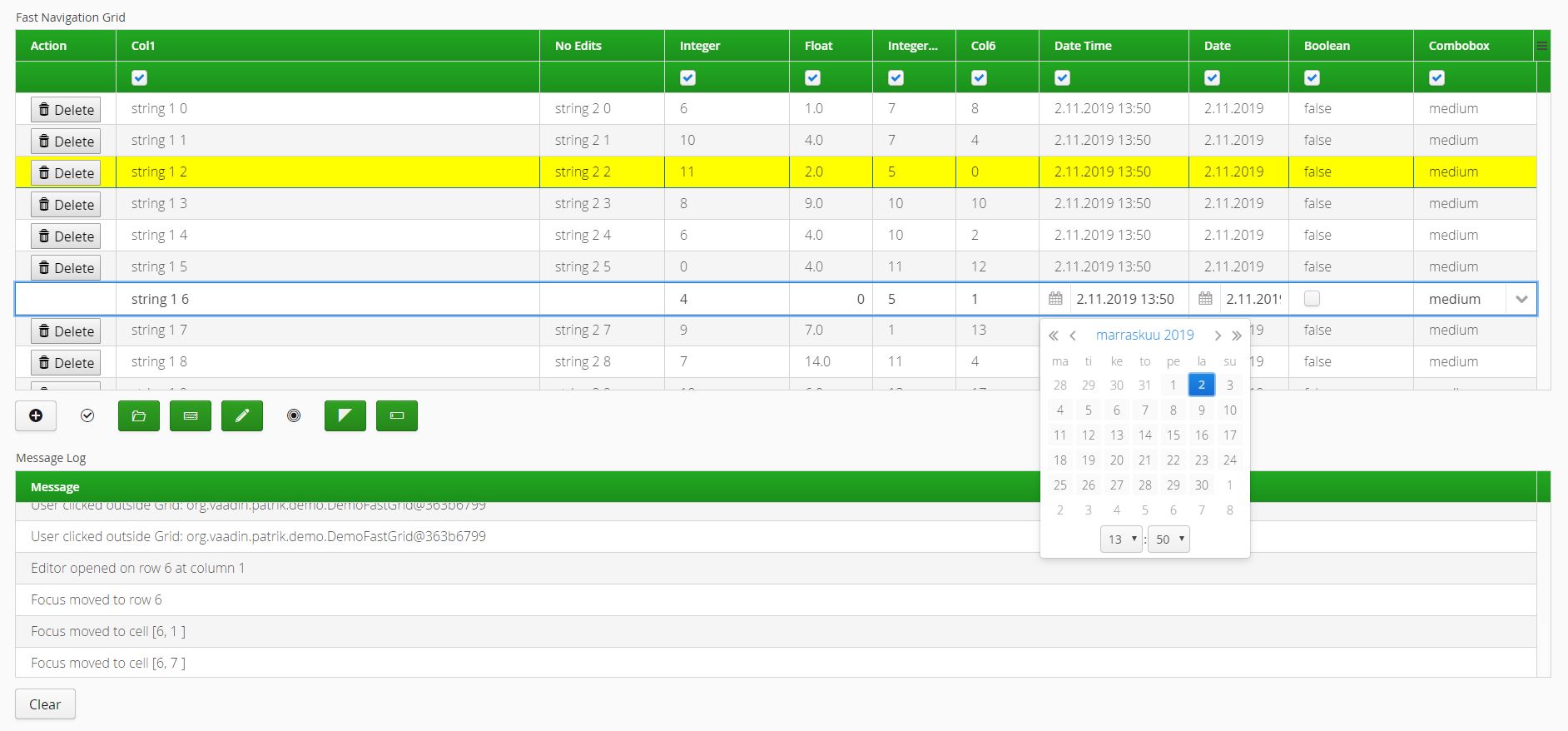 GridFastNavigation adds several features to the existing Grid unbuffered editor to make it more usable for Excel-style editing applications.
Features Vaadin 8:
Enter key can be configured to change column instead of a row
PgDown/PgUp supprt
Tab changes column, Grid can be browsed with cursor keys.
Typing text enables edit mode. (If you start typing with Delete key, the cell will be emptied first)
In ComboBox / DateField cursor down will open popup
The add-on supports TextField, PopupDateField, ComboBox and CheckBox in the edit fields of the editor.
RowEditEvent and CellEditEvent logic
Pressing Esc cancel edit and reset the value
Home/End key support: Home - first row, End - last row, Shift+Home - first column on first row, Shift+End last column on last row (can be disabled)
Server-side focus tracking events either on per-cell or per-row basis
Editor open/close events
DateFields now don't stop working after using up/down arrow navigation
Selecting text when opening editor can be enabled and disabled
Tab navigation skips disabled columns, selected columns can be disabled on editor opening.
Move with enter/shift+enter and tab/shift+tab as well as up/down arrow keys while editing
Allows user to start editing without first opening the editor
Open editor with single mouse click (configurable)
Optional mode to close editor and dispatch edit event when clicking outside of Grid
getItem() method in cell and row edit/focus, editor open events
setFocusedCell(row,col) method sets focused cell programmatically
Note, although idea is tempting to use this add-on to enable Grid's with large number of columns, the Grid's performance itself is good upto 20 or 40 columns depending on their content. If you need Excel-style editing with larger number of columns, I'll recommend to use Spreadsheet instead.
Notes for Vaadin 7 users:
Version 0.4.0 - 1.2.0 is compatible with 7.7.7 and newer. With older framework versions (7.6.0 to 7.7.6) you need to use 0.3.0, but it does not have all the features.
Vaadin 7 version has not been maintaned since version 1.2.0 and behind 2.5.1 in development
Links
Compatibility
(Loading compatibility data...)
Version 2.6.3
Fix editor column resizing in multiselect mode when horizontal scroll bar is present
Released

2021-03-05

Maturity

STABLE

License

Apache License 2.0
Compatibility