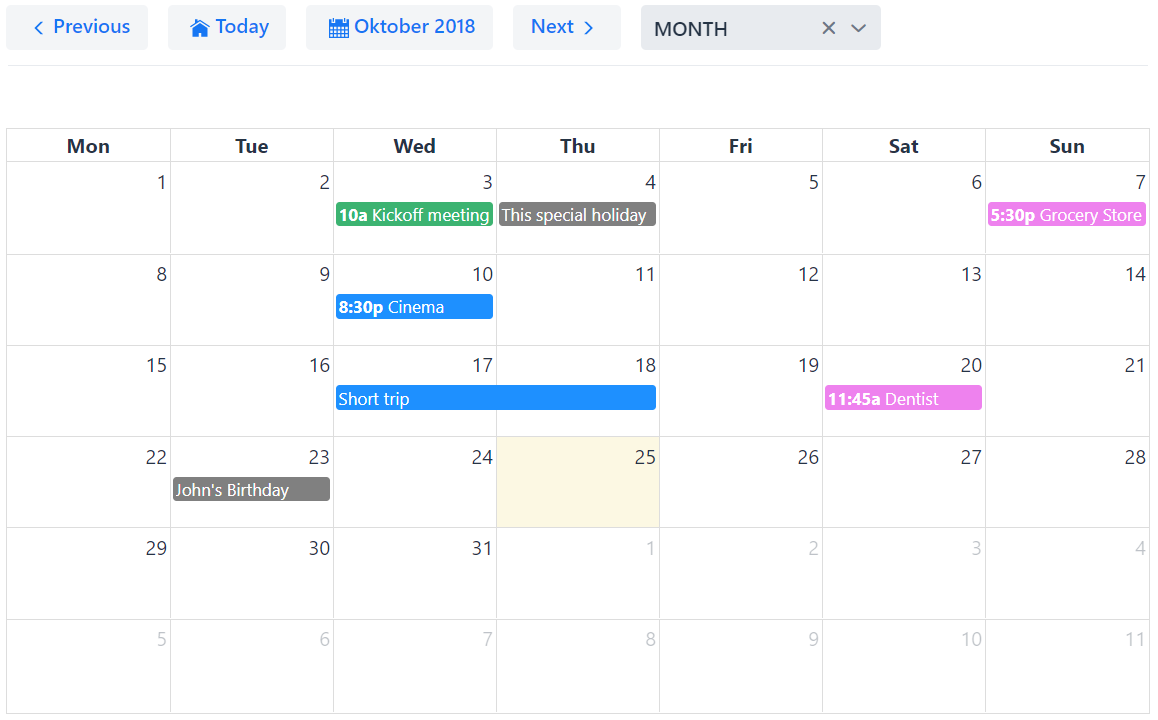 Monthly view
FullCalendar integration
This addon is an integration of the FullCalendar (v3.10.0) as Flow component for Vaadin Platform / Vaadin 10-13 (and 14 in Bower compatibility mode).
This version is not maintained any more. I recommend you to use the latest version for Vaadin 14+. It can be found here: https://vaadin.com/directory/component/full-calendar-flow
For information about the FullCalendar (functionality, features, license information, etc.) visit https://fullcalendar.io/
If you want to use the Scheduler, please have a look here: https://vaadin.com/directory/component/full-calendar-scheduler-extension-vaadin10
Addon Functionality
The following functions are implemented and available to use from server side:
adding / updating / removing calendar items,

switching between shown intervals (next month, previous month, etc.),

goto a specific date or today,

switch the calendar view (month, basic views for days and weeks, agenda views for days and weeks, list views for day to year),

setting a locale to be used for displaying week days, formatting values, calculating the first day of the week, etc. (supported locales are provided as constant list)

setting the first day of week to be shown (overrides the locale setting),

setting the height of the calendar instance (calculated by parent, aspect ratio or fixed pixel size)

show of week numbers

limit max shown entries per day (except basic views)

showing now indicator

activating day / week numbers / names to be links

styles are overridable via custom properties

setting a eventRender JS function from server side

setting business hours (multiple instances possible)

timezone support

Event handling for

clicking an empty time spot in the calendar,
selecting a block of empty time spots in the calendar,
clicking an entry,
moving an entry via drag and drop (event is fired on drop + changed time),
resizing an entry (event is fired after resize + changed time),
view rendered (i. e. to update a label of the shown interval)
clicking on limited entries link "+ X more"
clicking on a day's or week's number link (when activated)

Model supports setting

title,
start / end / all day flag,
color (html colors, like "#f00" or "red"),
description (not shown via FC),
editable / read only
rendering mode (normal, background, inversed background)
Timezones
Starting with 1.6.0 FC supports setting timezones. From this version, entries and some events work with Instant to represent the time based on UTC. You may set a custom timezone to display events for a user's timezone while the entries themselves still work with UTC based times.
Feedback and co.
If there are bugs or you need more features (and I'm not fast enough) feel free to contribute on GitHub. :) I'm also happy for feedback or suggestions about improvements.
Install
Framework Support
Vaadin platform 10
Vaadin platform 10+
Vaadin platform 11
Vaadin platform 11+
Vaadin platform 12
Vaadin platform 13
Release notes - Version 1.9.2
Business hours now maps DayOfWeek.SUNDAY to 0