← Back
StyleCalendar
A simple calendar component.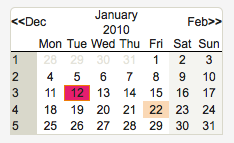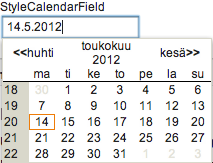 StyleCalendars goal is to offer a simple, extendable calendar component with an easily themeable client-side DOM structure.
Its features include:
setting stylenames for individual days
disabling date ranges and individual days
customizable header and week numbers
tooltip support
Also includes a StyleCalendarField component which is a simple textfield that uses StyleCalendar as a popup for date selection. This feature is experimental.
Sample code
Java:

StyleCalendar sc = new StyleCalendar();

sc.setDateStyleGenerator(new StyleCalendar.DateStyleGenerator()

           @Override
            public String getStyleName(Date date, StyleCalendar context) {
                Date now = new Date();

                if (date.after(now)) {
                    return "future";
                } else if (date.before(now)) {
                    return "past";
                } else {
                    return null;
                }
            }
});

CSS:

.v-stylecalendar .future {
	background-color: red;
}

.v-stylecalendar .past {
	background-color: blue;
}
Links
Compatibility
(Loading compatibility data...)
Packaged for Vaadin 7.7.7, Java8
Released

2017-03-13

Maturity

STABLE

License

Apache License 2.0
Compatibility