← Back
ColumnChart
A simple ColumnChart component for Vaadin 23+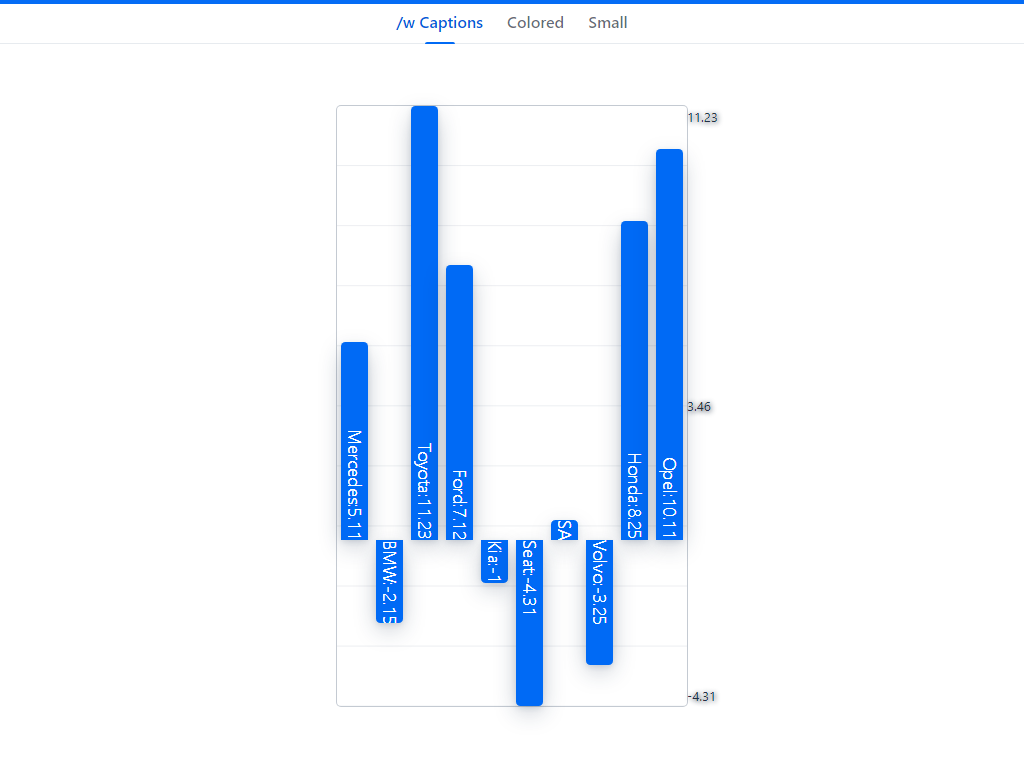 This is a simple ColumnChart component for Vaadin 23+. There are couple of styling options, which are also given by Java API.
The chart can be uni-color (Lumo primary color) or multicolored
Chart can have ten lines at background
Optional min, middle, max values can be shown either on the left or right
Column margin can be adjusted
Data can be set by numbers or with objects defining caption and number
The browser implementation is coded in TypeScript as web-component using Lit library .
Sample code
private ColumnChart getChart() {
        ColumnChart columns = new ColumnChart();
        columns.setValues(getValues());
        columns.setWidth(350);
        columns.setHeight(600);
        columns.setAxis(ColumnChartAxis.RIGHT);
        return ColumnChart;
}

private List<ColumnChartValue> getValues() {
        List<ColumnChartValue> values = new ArrayList<ColumnChartValue>();
        // populate values, e.g.
        // ColumnChartValue value = new ColumnChartValue(5.11,"Mercedes");
        return values;
}
Links
Compatibility
(Loading compatibility data...)
Version 1.1.0
Added possibility to remove the axises
Fixed issue with Vite builds
Released

2022-08-27

Maturity

BETA

License

Apache License 2.0
Compatibility
Framework

Vaadin 23+

Browser

Firefox
Opera
Safari
Google Chrome
iOS Browser
Android Browser
Microsoft Edge