← Back
Wizards for Vaadin
Simple way to create multi-step wizards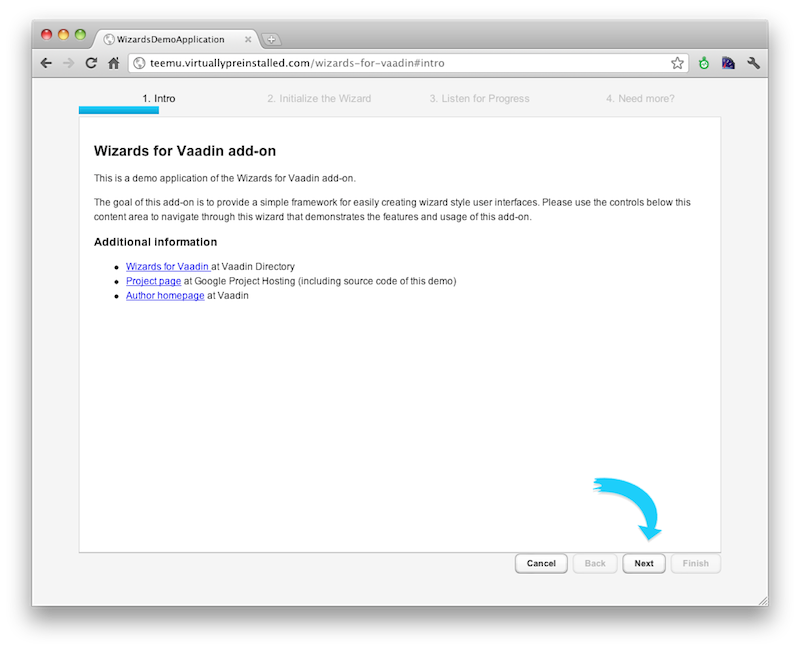 Wizards for Vaadin add-on provides a simple way to create multi-step wizards for Vaadin applications.
Sample code
// instantiate the Wizard
Wizard wizard = new Wizard();

// add some steps that implement the WizardStep interface
wizard.addStep(new FirstStep());
wizard.addStep(new SecondStep());
wizard.addStep(new ThirdStep());
wizard.addStep(new FourthStep());

// add the wizard to a layout
mainLayout.addComponent(wizard);
Links
Compatibility
(Loading compatibility data...)
Renamed styles.css to avoid filename collisions. Moved project hosting to GitHub (see the links on the sidebar).
Released

2012-10-19

Maturity

BETA

License

Apache License 2.0
Compatibility
Framework

Vaadin 6.3+
Vaadin 6.5+ in 0.1.0
Vaadin 7.0+ in 1.0.0-beta1
Vaadin 7.1+ in 1.1.0
Vaadin 8.0+ in 2.0.0

Browser

Internet Explorer
Internet Explorer
Internet Explorer
Firefox
Safari
Google Chrome
Internet Explorer
Vaadin Add-on Directory
Find open-source widgets, add-ons, themes, and integrations for your Vaadin application.