← Back
Vardar Touchkit Definitive Button Widget
NavigationButton in Touchkit with arrow options and without auto navigation.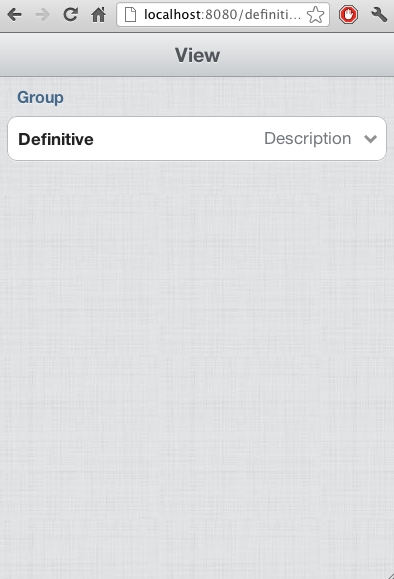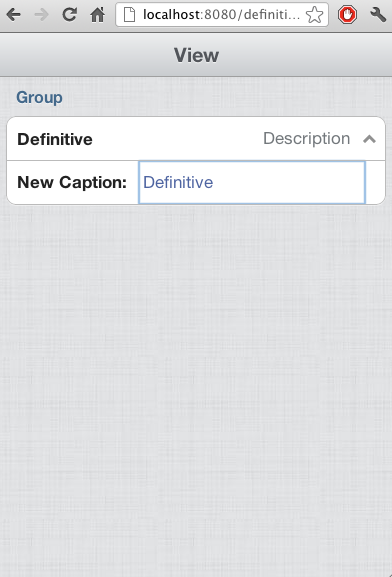 In Vaadin Touchkit, however NavigationButton has perfect styling, it has one downside that it needs to navigate to a new view for every click and you cannot prevent that. Moreover you cannot change the navigation arrow that is pointing right.
So I created a similar component that does not navigate automatically, and you can set different arrow styles, either down arrow, up arrow, or no arrow by default.
The main use case for me to make my forms editable in a fashionable way.
Sample code
		DefinitiveButton definitiveButton = new DefinitiveButton("Definitive Caption");
		/* will appear similar to NavigationButton */
		definitiveButton.setDescription("Description");
		/* either noarrow, arrowdown or arrowup */
		definitiveButton.setStyleName("arrowdown");
		/* define your custom action here. it will not navigate automatically */
		definitiveButton.addListener(new Button.ClickListener() {
			@Override
			public void buttonClick(ClickEvent event) {
			...
			}
		}
		VerticalComponentGroup group = new VerticalComponentGroup();
		group.addComponent(definitiveButton);
		NavigationView view = new NavigationView("View", group);
		navigationManager.navigateTo(view);
		
Links
Compatibility
(Loading compatibility data...)
Released

2012-08-11

Maturity

BETA

License

Apache License 2.0
Compatibility
Framework

Vaadin 6.8+

Browser

Safari
Google Chrome
iOS Browser
Android Browser