← Back
Vaadin wrapper for TinyMCE
Wrapper for popular LGPL rich text editor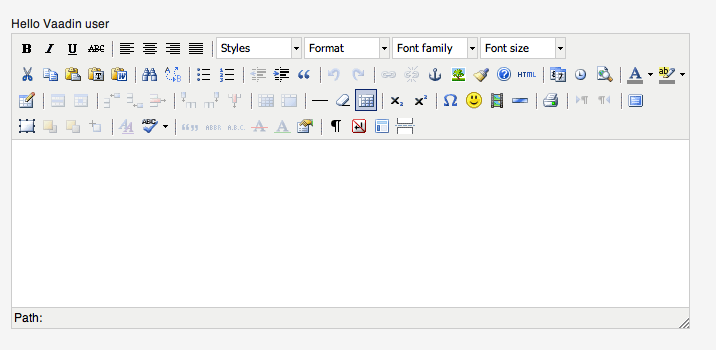 TinyMCE is popular feature rich html editor that works in common browsers. This add-on provides a wrapper around it. Vaadin developer can deal with a same kind on API as with TextField component. If you have Eclipse and Vaadin plugin installed, I'd bet there is no easier way to start using TinyMCE.
Vaadin has its own RichTextArea for, which is based on GWT's example implementation. TinyMCE has a lot more features than RichTextArea currently has.
Note, the wrapped TinyMCE editor has LGPL license. Apache2 license is for the wrapper code.
If users of this addon want to serve tinymce scripts themselves, they may use the included org.vaadin.tinymceeditor.widgetset.TinymceeditorWidgetsetNoScript widgetset instead. If the std widgetset is used, tinymce scripts are served from the addon jar file.
Sample code
		mainWindow.addComponent(new TinyMCETextField());
Links
Compatibility
(Loading compatibility data...)
fixed updating issue when returning from html mode
updated to tinymce 3.4.9
maven based build, zip packaging, sources to directories maven repo
Released

2012-03-01

Maturity

BETA

License

Apache License 2.0
Compatibility
Framework

Vaadin 6.0+
Vaadin 6.2+ in 1.1

Browser

Internet Explorer
Internet Explorer
Internet Explorer
Firefox
Opera
Safari
Google Chrome
Internet Explorer