← Back
Tuning DateField
A DateField alternative which can be customized with custom styles and tooltip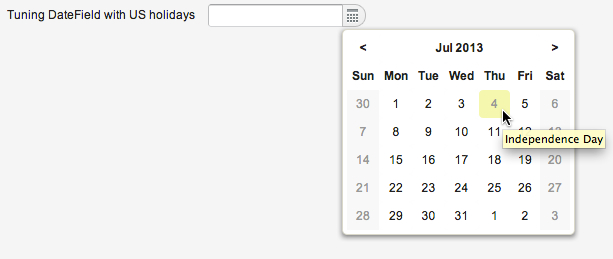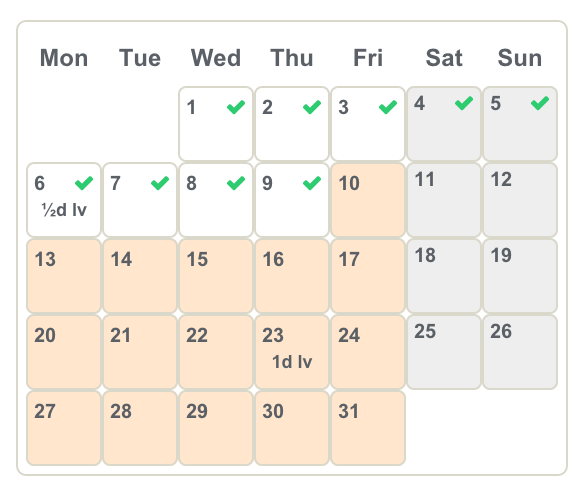 Tuning DateField is a highly customizable alternative to Vaadin native DateField.
You can customize styles and cell rendering.

There is also an inline mode that displays the calendar directly.

From 1.19.0-vaadin8 version, java.time is used instead of Joda Time LocalDate (http://www.joda.org/joda-time/). You can wrap new version into CustomField that uses Joda for backward compatibility

A 3 resolution calendar (day, month, year) is used for fast time travelling
Go to https://github.com/fdreyfs/vaadin-tuning-datefield for installation instructions.
Sample code
final TuningDateField tuningDateField = new TuningDateField("Tuning DateField with US holidays");

// Add a cellItemCustomizer for holidays
tuningDateField.setCellItemCustomizer(new CellItemCustomizerAdapter() {

    private HolidayManager holidayManager = HolidayManager.getInstance();

    @Override
    public boolean isEnabled(LocalDate date, TuningDateField calendar) {
        return !holidayManager.isHoliday(date);
    }

    @Override
    public String getTooltip(LocalDate date, TuningDateField calendar) {
        if (holidayManager.isHoliday(date)) {
            Holiday holiday = holidayManager.getHolidays(date.toInterval()).iterator().next();
            return holiday.getDescription();
        } else {
            return null;
        }
    }

    // CSS :
    // .tuning-datefield-calendar .holiday {
    // background-color: rgba(233, 237, 107, 0.5);
    // }
    @Override
    public String getStyle(LocalDate date, TuningDateField calendar) {
        if (holidayManager.isHoliday(date)) {
            return "holiday";
        } else {
            return null;
        }
    }
});

// A listener for date change which changes the date range
tuningDateField.addDateChangeListener(new DateChangeListener() {

    @Override
    public void dateChange(DateChangeEvent event) {
        // Access the LocalDate model instead of the value (which is a String)
        LocalDate localDate = tuningDateField.getLocalDate();
        // Modify the date range on the fly
        tuningDateField.setDateRange(localDate, null, "Allowed date start at " + localDate);
    }
});
InlineTuningDateField inlineTuningDateField = new InlineTuningDateField();
inlineTuningDateField.setControlsEnabled(false);
Links
Compatibility
(Loading compatibility data...)
#20 Fixed NPE when calling removeDateRange() method. Thanks to ohens for spotting the bug
Released

2017-08-03

Maturity

BETA

License

Apache License 2.0
Compatibility