← Back
TimeField
Field for selecting time of day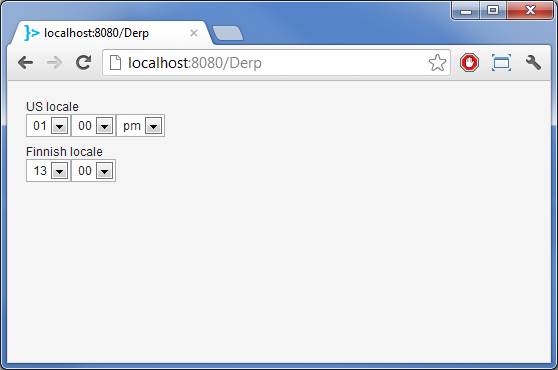 Ever wanted to use only the time part of DateField, without the actual day?
TimeField features:
12 or 24 hour clock format, based either on given or detected (browser) locale
hour, minute or second resolution
no custom client-side (no extra compiling!)
supports all Field features
NOTE: requires CustomField add-on when using Vaadin6.
Links
Compatibility
(Loading compatibility data...)
Fixes issue found by Ruud Paulissen, thanks!
Released

2017-03-22

Maturity

STABLE

License

Apache License 2.0
Compatibility
Framework

Vaadin 7.6+
Vaadin 6.8+ in 0.3
Vaadin 7.0+ in 0.2-v7
Vaadin 8.2+ in 3.0.0-v8comp

Browser

Browser Independent
Vaadin Add-on Directory
Find open-source widgets, add-ons, themes, and integrations for your Vaadin application.
The channel for finding, promoting, and distributing Vaadin add-ons.