Polymer 2.0 element that simulates typing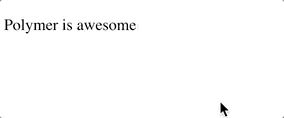 [ This description is mirrored from README.md at github.com/sespiros/typed-text on 2019-05-22 ]
<typed-text>
Polymer 2.0 element that simulates typing similar to typed.js for jQuery.
Check out the demo and full documentation
Setup
Install with bower or download the zip
bower 

install

 --save sespiros/typed-text
Import it in your code
<!-- for relative paths -->




<

link 

rel

=

"

import

"

href

=

"

../bower_components/typed-text/typed-text.html

"

>
Usage
<

typed-text

>

</

typed-text

>
Features
Can type and delete text
Supports constant looping between text
Cursor customization with custom-style
Smart noretype function that finds common parts of consecutive strings as shown in the demo
Style it however you want for cool effects!
Contribute
Feel free to extend it or propose new functionality
Install
Install with
bower install --save sespiros/typed-text"#2.0.0"
Run the above Bower command in your project folder. If you have any issues installing, please contact the author.
Release notes - Version 2.0.0
Dependencies
polymer#Polymer/polymer#^2.0.0
iron-component-page#PolymerElements/iron-component-page#^2.0.0
webcomponentsjs#webcomponents/webcomponentsjs#^1.0.0