RangeDateField can be used to limit the date selection to a specific date range, exclude some specific dates you don't want to be selectable, or exclude weekends altogether.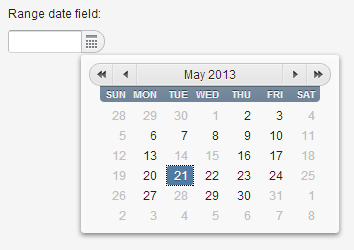 Restricted by date range and excluded weekends
RangeDateField extends standard Vaadin DateField and allows you to restrict date selection to a specific set of dates. You can also set custom CSS styles to specific dates this way customizing the Look&Feel of the calendar.
Date selection can be restricted in the following way:
by providing valid from or valid to date (or both);
by specifying that weekends should be excluded;
by configuring a specific list of days that should be disabled;
Install
Release notes - Version 6.0