An animated message stack for user notifications, progress, status, RSS visualization etc.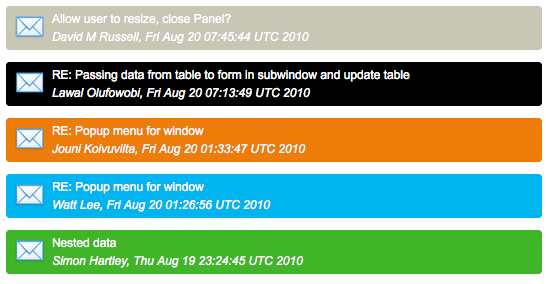 Styled Notification Messages
With this add-on you can build a good-looking notification area into your application.
The component can be configured as a scrolling message widget for your Twitter feed or blog RSS. Alternatively you can use it simply as an user-friendly way of presenting application and system notifications to user. See the demo for some samples.
Includes many built-in styles and designs, but of course supports full CSS styling too. Uses Animator add-on to animate the messages.
I still consider this as experimental. Please help with testing and report any odd behavior at the Vaadin add-on forums.
Thanks to Marc Englund, Teemu Pöntelin and Jouni Koivuviita for helping me with this so far.
Dependencies: Java 5, Vaadin Animator Add-on.
Install
Release notes - Version 1.0.5
Fixed serialization and IE compatibility with gradients. Added pom.xml for Maven users.