Spring integration, form data binding and UI component library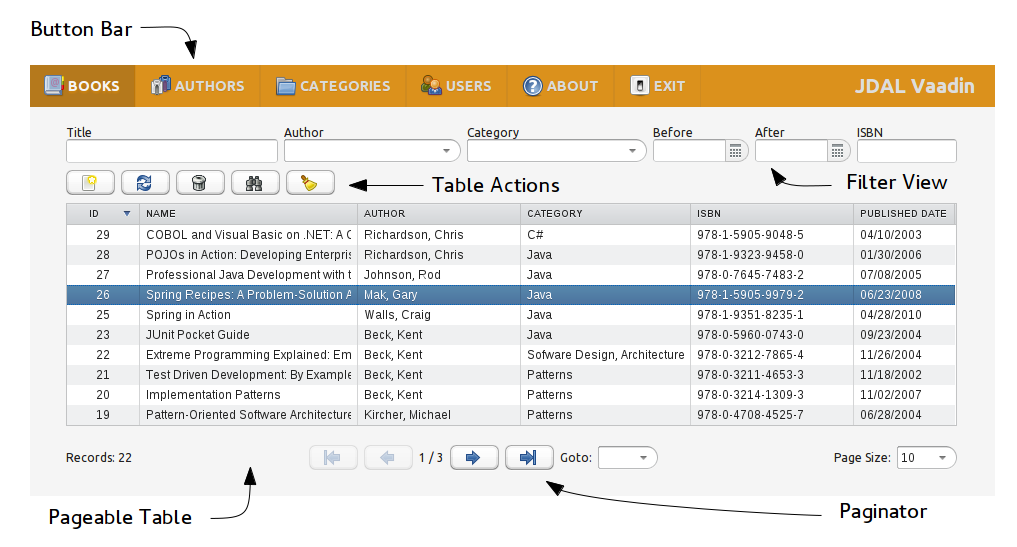 Sample Application
JDAL Vaadin is a port of JDAL Swing Library to Vaadin including the following features:
Spring Integration:
Spring custom namespace for configuring Vaadin components in bean definiton files.
Serializable proxy support to allow injecting spring beans into Vaadin components with session pasitivation and replication across cluster nodes.
Spring scope for Vaadin 7 UIs.
Resource property editor to allow injecting resources in bean definition files.
Spring UIProvider.
Spring Security integration
ListBeanContainer with support of indexed properties, ie person.addresses[0]
UI Library:
Automatic and annotation driven form data binding between views and models.
Support for JSR-303 and spring validators.
Server side paged table with navigation and filtering support.
Form building support class.
Configurable login form
Configurable button bar for Vaadin navigator.
And more...
Install
Release notes - Version 2.1-RC1
Add initial support for Spring Security.
Add a new ListBeanContainer with support for indexed properties, ie person.addresses[0].
New @UiMapping annotation for mapping urls to UIs.
New @ViewConfig annoation for configurig url mapping and access for Views.
New attribute access in <vaadin:navigator-action > tag to set access role of the buttons in button bar.
Add Role editor to samples.