← Back
DNDScroll Add-on
Extensions for adding automatic scrolling during drag'n'drop to a Vaadin Table or Panel.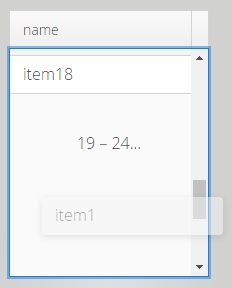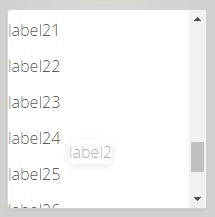 DNDScroll is an extension add-on for Vaadin 7 (1.x branch) and Vaadin 8 (2.x branch). It contains TableAutoScrollExtension and PanelAutoScrollExtension, which both add automatic scrolling when a dragged element is hovered near the end or the beginning of the layout.
NOTE: this extension replaces the default implementations of VDragAndDropManager and VDragAndDropWrapper with extended custom versions to enable the autoscroll functionality. If you have any other custom implementations of these classes in your project, you'll need to combine them manually.
For an example of how to use the extensions, see the side panel and the sources.
Tested from 7.6.0 up, might work with older versions as well.
Sample code
    protected Table createTable() {
        Table table = new Table();
        BeanItemContainer<TestBean> container = new BeanItemContainer<TestBean>(
                TestBean.class);
        for (int i = 0; i < 30; ++i) {
            container.addBean(new TestBean("item" + i));
        }
        table.setDragMode(TableDragMode.ROW);
        table.setContainerDataSource(container);
        table.setPageLength(6);
        table.setWidth(200, Unit.PIXELS);
        table.setDropHandler(new TableDropHandler());
        TableAutoScrollExtension extension = new TableAutoScrollExtension();
        extension.extend(table);
        return table;
    }
    private Component createVerticalPanel() {
        Panel panel = new Panel();
        VerticalLayout content = new VerticalLayout();
        content.setSpacing(true);
        PanelDropHandler dropHandler = new PanelDropHandler(content);
        for (int i = 0; i < 30; ++i) {
            Label label = new Label("label" + i);
            label.setWidthUndefined();
            DragAndDropWrapper wrapper = new DragAndDropWrapper(label);
            wrapper.setDragStartMode(DragStartMode.COMPONENT);
            wrapper.setDropHandler(dropHandler);
            content.addComponent(wrapper);
        }
        panel.setContent(content);
        panel.setHeight(200, Unit.PIXELS);
        PanelAutoScrollExtension extension = new PanelAutoScrollExtension();
        extension.extend(panel);
        return panel;
    }
Links
Compatibility
(Loading compatibility data...)
Fix for excess auto scroll
Limit auto scroll to source and its children
Released

2018-04-23

Maturity

EXPERIMENTAL

License

Apache License 2.0
Compatibility
Framework

Vaadin 8.0+
Vaadin 7.6+ in 1.0.2

Browser

N/A