← Back
Collapsible SplitLayout
An extension of Vaadin SplitLayout to enable collapsing components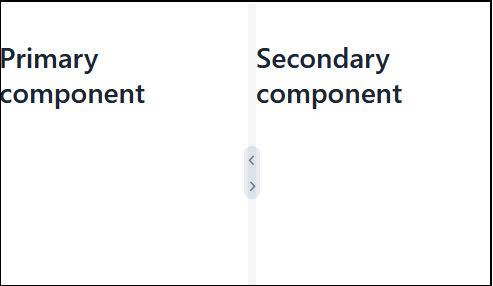 Collapsible SplitLayout
An extension of Vaadin SplitLayout to enable collapsing components.
One or both of the SplitLayout's components can be made collapsible using,
CollapsibleSplitLayout collapsibleSplitLayout = new CollapsibleSplitLayout(
                new Paragraph("Primary component"),
                new Paragraph("Secondary component"));

collapsibleSplitLayout.setPrimaryComponentCollapsible(true);
collapsibleSplitLayout.setSecondaryComponentCollapsible(true);

Sponsored development
Major pieces of development of this add-on has been sponsored by customers of Vaadin. Read more about Expert on Demand at: Support and Pricing
Links
Compatibility
(Loading compatibility data...)
Vaadin Add-on Directory
Find open-source widgets, add-ons, themes, and integrations for your Vaadin application.
The channel for finding, promoting, and distributing Vaadin add-ons.