← Back
CircularProgressBar Flow
Circular shaped progress indicator for Vaadin 24, Vaadin 23.3.x and Vaadin 14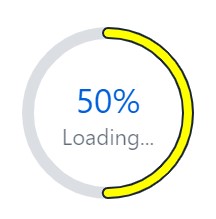 Overview
This is a circular shaped progress indicator made as web component using Svg.
This add-on is inspired by https://vaadin.com/directory/component/circular-progressbar-add-on1
Features:
Configurable border
Optional caption
Animated and non-animated modes
Configurable animation speed
Implements HasTooltip
Styling with CSS custom properties, use integer numbers
--progress-circle-width
--progress-caption-font-size
--progress-percent-font-size
Sample code
CircularProgressBar progress = new CircularProgressBar();
progress.setWidth("200px");
progress.setHeight("200px");
progress.setPercent(0.5);
progress.setCaption("Loading...");
Links
Compatibility
(Loading compatibility data...)
Released

2023-01-03

Maturity

BETA

License

Apache License 2.0
Compatibility
Framework

Vaadin 14
Vaadin 23+ in 1.0.0

Browser

Firefox
Opera
Safari
Google Chrome
iOS Browser
Android Browser
Microsoft Edge
Vaadin Add-on Directory
Find open-source widgets, add-ons, themes, and integrations for your Vaadin application.
The channel for finding, promoting, and distributing Vaadin add-ons.