← Back
AppletIntegration
Java applet integration helpers for your Vaadin application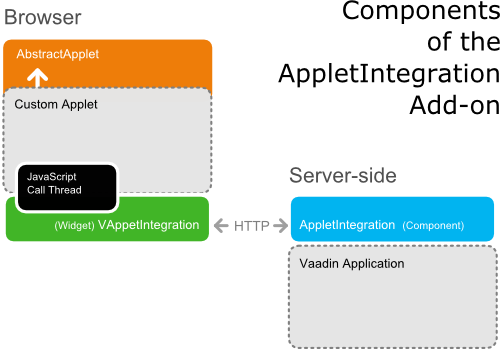 This add-on takes care of most of the technical details related to Java applet integration to a Vaadin application.
The package includes a base Java applet class that implements threaded communication with GWT component as well as base widget and server-side API to embed the applet.
AbstractApplet: A base class for an applet. Implements a threaded JavaScript communication mechanism.
VAppletIntegration: Client-side Applet integration base for embedding and communicating with an applet.
AppletIntegration: Server-side applet integration class. This is intended to be subclassed to integrate a custom applet to your Vaadin application. Implements the server API for applet communication.
Remember, that to implement a privileged applet you need sign the applet jar. For example use case see the Screenshot add-on.
Sample code
        AppletIntegration applet = new AppletIntegration() {

            private static final long serialVersionUID = 1L;

            @Override
            public void attach() {
                setAppletArchives(Arrays.asList(new String[] { "Othello.jar" }));
                setCodebase("http://www.w3.org/People/mimasa/test/object/java/applets/");
                setAppletClass("Othello.class");
                setWidth("800px");
                setHeight("500px");

            }
        };
        mainWindow.addComponent(applet);

        // Sample applet from: http://www.w3.org/People/mimasa/test/object/java/

Links
Compatibility
(Loading compatibility data...)