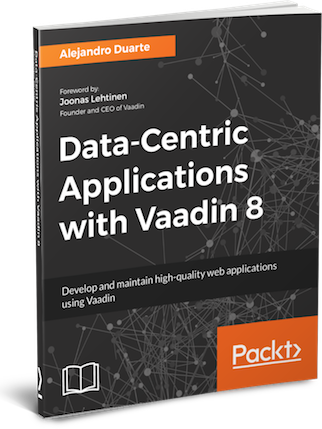 Good news for Vaadin enthusiasts: A new book about Vaadin is available now! In Data-Centric Applications with Vaadin 8, Vaadin Advocate Alejandro Duarte explores how to create functional web apps, where data management is a key concern. Unlike many IT manuals, which only offer an introduction to the technology, in his book, Alejandro guides developers to the next level by presenting elegant explanations of how Vaadin can be used with selected data-related concepts found in many modern applications.
Community Answer: Processing a File in a Background Thread
A couple of weeks ago I found this interesting question in the forum: I figured it was a perfect chance to try some live coding and record a video explaining how to implement a simple application with these requirements: 1. Allow users to upload a file. 2. Show a spinner in the UI while the file is ...
Building a web UI for MySQL databases (in plain Java)
Note: This post has been updated to use Vaadin 8. This guide walks you through the process of connecting to MySQL databases from Java web applications using JDBC and Spring Framework. The UI part will be built using Vaadin Framework that allows you to build modern single-page web apps with only ...